…great for brain development!
by Tracey Chipps
You've heard the term "music makes the world go 'round". Music makes a child's "sensory environment go 'round" as well!  Experimenting with a variety of sounds will enrich our charges sensory environment. We often focus on tastes and textures or exposing our charges to different colors.  But, how often do you stop to discuss and play with the sounds you hear every day in music? Loud, soft, steady, slow, fast or slow rhythms and beats? How often do you get down on your charges level and clap your hands to the beat of a song or tap your knee as you read rhythmic books?
Children ages 1-3 begin to benefit most from music when they can have a hands on experience. Casually listening to music in the background while at play or drifting off to sleep is beneficial and enjoyable. However, when you give a child an active encounter with music such as with exploring with musical instruments many thing begin to happen within the brain.
The frontal lobes of our charges brains are stimulated when exposed to music. The frontal lobe is where our skills for language and motor development are formed. This frontal lobe portion of our brain is also where our decision making skills come into play. Now your getting it right? Participating in music NOW is setting our little ones up for success LATER in life!
Hands on musical experiences with drums, shakers, tambourines, and other instruments help form more trails between the cells in their developing brains. These neural connections lead our charges to better reading and math. Simply turning on the radio in the car or playing a cd while your charge is building with blocks make these brain connections too, but the most successful way is actively being engaged with the music.
I'm going to show you two instruments that my charge and I made together from re-purposed items. In the following photos you will see how we created a shaker from an empty salt container. You will also see our homemade drum!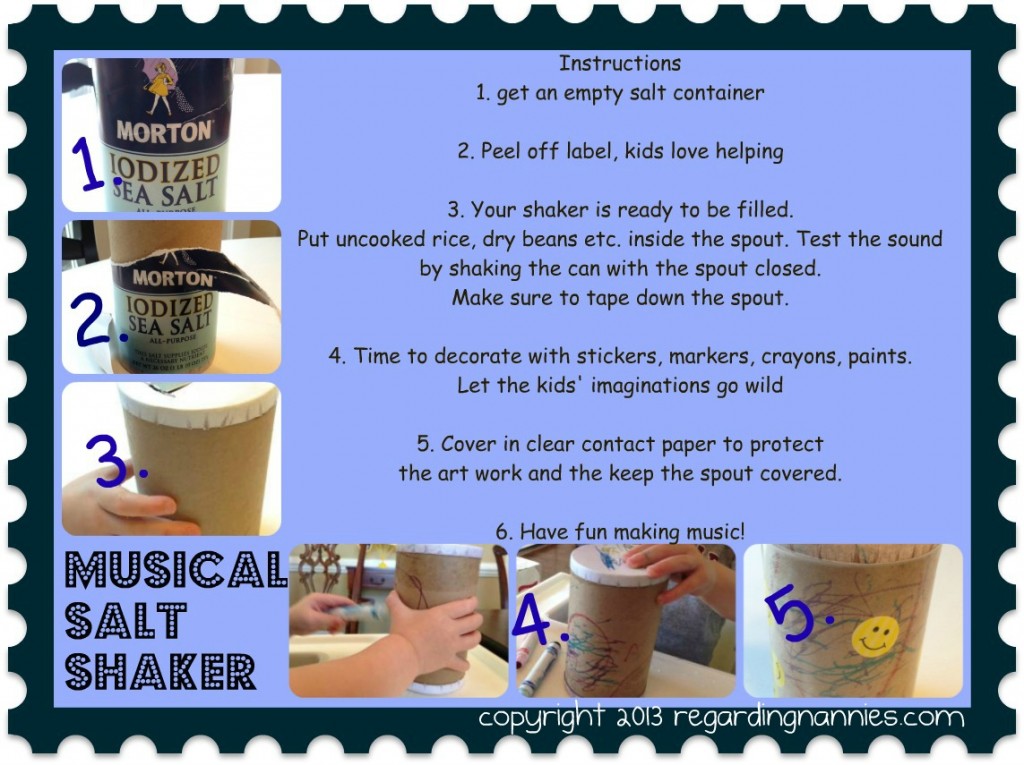 The ideas are endless and soon you will be creating your own homemade instruments too. I hope you will share your creative instrument ideas with me!