Nannypalooza is almost here!   Nannies will gather in Cleveland, Ohio November 2-3 for a fabulous weekend of education, networking and forging new friendships.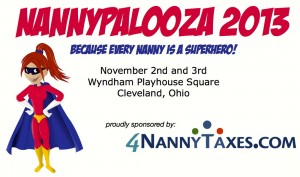 If you don't have your ticket yet, better hurry … Prices go up October 19!
This year Nannypalooza introduces the UnConference.
Friday afternoon from 12:30 to 5:00 we will be offering a new and dynamic option for you! The unconference idea came from the tech sector and has come to the education world and beyond as a new way to learn and grow.   The basic idea is that we are all learners and teachers. (We have believed this at Nannypalooza since the beginning!) This participant driven experience is totally unique and allows for the attendees to create the agenda together.  In this environment new ideas are born and great ideas are spread. 

The unconference is free and open to all interested parties- even if you are not registered for Nannypalooza. 
Also new this year is The Nanny Lounge.  This is a room that will offering ongoing networking opportunities on Saturday during Nannypalooza!
The new features continue as Nannypalooza introduces SUPERsessions this year to the line-up.   These extended sessions are an additional fee to your registration, but well worth the nominal fee of $15.
SUPERsession:  How to Get the Behavior You Want….Without Being the Nanny You Hate.
"If you could wave a magic wand at home, which behaviors would you change?" Nannies will generate a list, and Dr. G will ensure that each participant leaves with strategies to fix the most pressing issue facing each nanny, as well as skills to handle whatever their kids will think of next! Interactive and relaxed, nannies will respond to the warmth of Dr. G's seminar, finding comfort and encouragement, as well as accountability and resources. This practical workshop is Dr. G's most popular session. 
SUPERsession: What Do YOU Need to Know About Caring for Infants from Birth through the First 3 Months of Life?? 
Interested in working with newborns? Is your current family expecting an addition? Have you ever wondered about getting training to become a Newborn Care Specialist or are you a current NCS looking to brush up some skills?
This SUPERsession will be presented by Carolyn Stulberg, R.N., BSN, CCE of the Alexandria School and Jill Minger M.D. Obstetrician and Gynecologist at the Cleveland Clinic. Carolyn and Dr. Jill  will be able to offer information on the birthing process, the newborn's needs at birth, the mother's needs postpartum,  infantfeeding, sleeping, crying, equipment and the basics of newborn care. This session will be unique as it will be tailored to fit the audience. A short survey will be sent out a few weeks prior to the conference where attendees will give their experience levels and tell us what YOU most want to learn. The session will then be focused on the attendees. This will be a great introduction to those interested in newborn care or offer nannies who want to add some of these skills to their resume a chance to sharpen up!
This session will
offer you advanced level information crucial from birth through  the first 3 months ( 4th trimester) of a child's life
 learn  the latest current concepts in birth and infant care
 be interactive and intensive
give you learn it today, use it tomorrow practical skills
give you some of theory behind the practices
give you direct access to an Dr. Jill an obstetrician and  Carolyn Stulberg an expert in newborn care and the first 3 months of life
This session will NOT
prepare you to be a Newborn Care Specialist
give you information about toddlers, preschoolers etc..
go into detail on the business end of newborn care (i.e. contracts, how to find jobs, etc…)
SUPERsession: The Nanny Manager- Expanding Your Duties 
More and more families are looking for more than just a nanny. Plus as kids go off to school, many nannies face shorter hours or losing a family they love. Busy families need personal assistants, cooks, housekeepers and household managers and more. In the current job market, a nanny who knows how to tackle this blended position with the right attitude can not only command a higher salary, but also attains a greater degree of job security. We will discuss the specific jobs that are being offered and talk job descriptions and specifically what tasks families demand as well as how to set boundaries and tailor a job to meet the family's needs while not losing your mind. Then we will prepare to meet the challenges head on using exercises that will help you see if you are suited to the position and where you might need to brush up your skills. Finally we will go through a list of specific tips, tricks and tools to get you ready to go!  This session will focus on the blended position of NANNY and household manager/assistant. We will not be talking about the traditional and more formal household manager position that might be found in the estate setting.
Still not convinced to attend?   Check out the rest of the schedule of topics and presenters!  From infant to teen, personal to professional development, there is something for everyone!
With the support of industry businesses and countless volunteers, this conference wouldn't be possible.  Make sure to check out their pages and businesses and give a shout out of Thanks!
Hope to see many of you there!
Kellie Geres 
Regarding Nannies Development Team