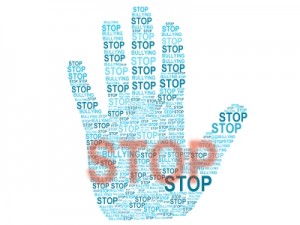 In the Fall, our contributor Lindsey Ayers of Hilda got rocks, wrote a great story on bullying, called: How to be the Anti-Bully: Teaching Acceptance, Tolerance and Diversity and I wanted to reshare it with our readers today. Bullying is present in every age group it sees no boundaries.  Hopefully an end will come soon!
It isn't easy to talk to kids about things like this. Depending on the age it can be hard to explain. I decided I'd talk with each boy separately and find ways to get on their level (the best way to get to any kid).

First, I needed to be sure they knew what bullying was. I wanted to show them that bullying isn't always about physical abuse or name calling. Bullying can also include leaving other kids out. It can be saying something mean, then following it with "just kidding". Gossip and the silent treatment are bullying. As is withdrawing a friendship or threatening to end a friendship. And that bullying can take other forms such as social media (texts, emails, Facebook posts) to make mean comments about another person. Bullying is anything someone can do to make another person feel inferior. Bullying can be based on difference, weakness, strengths… anything really.
To read the rest of the article please visit: