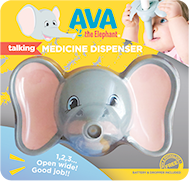 Regarding Nannies features nannies who have started a business, service or product while either employed as a nanny or after their nanny career.   We'd love to feature you!  If you have a creative talent, budding business and wish to be featured, contact us.
Some of our Nannypreneurs include Tiffany Krumins, Creator of Ava the Elephant and Shark Tank Success Story!  , author and Parent Coach Lesa Day , and SitterCycle founder Helen Adeosun.
These, and all our Nannypreneurs offer inspiration, tips for success and words of wisdom.
We'd love to meet you!