12 Ways to Boost Professional Development   
by mallory lynch
Hi. My name is Mallory and I am a professional development addict.  I love the feeling of accomplishment that comes with achieving a goal.  I revel in the positive changes I see in my charges after implementing the wonderful things I have learned.  I take pride in meeting my responsibilities to my nanny family by keeping up with the latest and greatest in my field.  I appreciate being able to share my experiences and newly gained knowledge with my nanny friends.  I really can't say enough good things about professional development!
Now like most addictions, mine didn't happen overnight.  It started 8 years ago with an email from my agency saying they were starting a support group for nannies.  I attended the very first meeting one fateful Saturday morning at a local library.  Several education days, dozens of webinars, and one Nannypalooza later I can now be found working on my professional development as many as 2 or 3 nights a week.  Some would call that crazy (I sometimes feel that way too), however, it's so very important that I embrace self-improvement and continue to set goals and aim high in my career.  It's good for me, good for my nan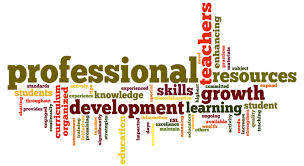 ny family, and good for the nanny profession as a whole.
Professional development can set a nanny apart from his/her peers.  It can pump up a resume, boost confidence, improve professional image, and overall help keep a nanny at the top of his/her game.  It can improve employer/employee communication, help foster a unique and harmonious nanny/child relationship, and assist in creating a positive overall work environment.  Professional development is also an amazing way to help advance the nanny profession and raise the bar on standards.  Nannies get hit hard with the assumption that we're not professionals.  Frustrating, right? Making professional development a priority can help us educate naysayers and show them nannies are trained, respected professionals (something we've known for a long time.)  So let's make a stand!  The more nannies who join the professional development movement the better!  Here are just a few ways to get started.
 Get Your Feet Wet
It doesn't have to cost a lot of money or take a lot of time to expand professional development.  Perhaps the simplest way to be in the know is following blogs and subscribing to podcasts!  Blogs are fun places to discover new and exciting age appropriate activities, keep up to date with the latest happenings in our field, and learn from the experiences of others.  Some of my favorites are Regarding Nannies, Teacher Tom, and Toddler Approved.  And who doesn't love a good podcast!  My favorite is Practically Perfect Podcast.  In approximately 15-30 minutes you can look at issues in our profession for the first time, or possibly through a whole new perspective.  Every time I tune in I realize something new about myself as a nanny and how I perform my job.  My favorite podcast to date is That's Not My Table – if you only plan to give one podcast a shot, make sure it's this one!  Subscribe on iTunes today and start listening in on the commute to work, while you are washing bottles, or folding all of those footie pajamas.  It's hard to beat free information!  
Read, Read, Read
We take our charges to the library and instill what a great resource it is for them, but it's a great resource for us too!  Many libraries even offer ebooks that can be downloaded to phones and tablets, making it that much easier (and cheaper) to get a hold of new releases.  Consider checking out one of my favorites –  Shadow Mothers, an interesting read on the nanny-momboss relationship.  Magazines are also great sources of information and in many cases much easier to get through during those over-before-we-know-it naps.  Some of my favorites are Parents and Family Fun.  And let's not forget news articles.  Keeping up with local and national news keeps a nanny in touch with what is happening in the world.  Nanny Care Media Watch is a wonderful place to stay up to date on nanny news.  Check it out on Facebook today!
Become a Member
Joining an organization might be the easiest way to boost your professional development and let's face it, it feels good to belong to something!  You can be involved as much or as little as you have time and desire for.  Simply want to be a member and enjoy perks?  Awesome.  Want to dig in deeper and join a committee, board, or program?  Also awesome.  Typically a small yearly membership fee is required before you get a variety of benefits such as discounted rates for conferences and resources, and access to educational tools, publications, and directories. Some national organizations offering memberships include the INA, NAEYC, and DEMA.  And don't forget to check out local organizations!
 Attend National Conferences
Just as business folk attend conferences for continued learning, so can nannies!  Where else can you have access to several qualified speakers and presenters as well as fellow professional nannies from all over the country!  Many conferences allow you to customize much of the experience to your personal nanny needs by offering multiple presentations and having you choose the best option for the optimal experience.  The best perk in my opinion, however, is being exposed to such an abundance of information in a small amount of time and for a much lower cost than participating in the trainings and workshops individually. I personally attended my first ever national conference this past November at Nannypalooza 2013 in Cleveland.   What an experience!  I can't begin to tell you how excited I am to return this fall when Nannypalooza tears it up in Philadelphia.  Other national annual conferences worth checking out include INA, NAEYC, DEMA Convention, RIE Infant/Toddler Conference, and the International Babywearing Conference.  
Brush Up on those Certifications
Many of us have our CPR and First Aid certifications.  We have been informed of how important these two trainings are to have – and boy are they!  But have you considered getting certified in other areas that pertain to our field?  Every family is different and therefore so are the certifications necessary to best meet their needs.  Work for a family with a  pool?  Become lifeguard and/or swim instructor certified.  Starting a new job with a brand new baby?  Check out newborn care specialist certifications.  Live in an area with lots of lakes and rivers?  Contact your local DNR about boating and water safety certifications.  Work for a family who keeps guns in the house?  Get certified in firearm safety.  It never hurts to be prepared and it can help show employers your commitment to safety and willingness to go above and beyond what is expected of you.
NA

Trainings and workshops are great places to explore new ideas and educate oneself on different techniques as well as learn which outdated approaches to say goodbye to.  Two basic categories of trainings and workshops are online and in-person.  Online trainings are my favorite and can be done from the comfort of your home (or in my case from the comfort of my bed) and many times on your schedule as replays are usually available for anyone who can't attend live.  They tend to be very reasonably priced and usually offer small class sizes with plenty of individual assistance.  If you're looking for some online training opportunities check out Nanny Biz Reviews, SitterCycle, NannyTrainings.com, ISIS Parenting, Bright Horizons, Positive Parenting Solutions, and Digital Parent for a start.
In-person trainings, on the other hand, offer a nanny the ability to have face-to-face interaction with the presenter and also other childcare professionals in attendance. These kinds of trainings vary greatly in price but also in content.  Some examples of in-person trainings are Love and Logic and Positive Discipline seminars, cooking classes at your local grocery store, and various child focused workshops and presentations offered by local universities and kid hot spots such as museums.  With so many options a nanny is sure to find a training that is the right fit not only for his/her personality but for his/her wallet as well!
Come back on Thursday, June 12 for Part 2 and more suggestions to expand your professional nanny education.