Children love playing with bubbles. Whether it be trying to blow them out of the bubble wand or squealing with glee as they chase after them, bubble making and popping is hard to resist. Did you know you could paint with bubbles too? Some caregivers do this by offering their children a straw to blow bubbles on to their paper. As you'll see, we did things a little differently at art in the park!
Find out what you need and more ideas to have fun with bubbles.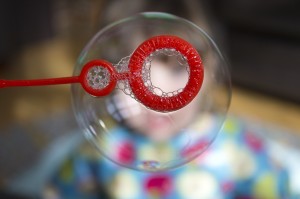 This article originally appeared on CareAcademy.co. Reprinted with permission. 
Other articles that might interest you: