From toddlers who grab at your smartphone to preschoolers who love playing with your tablet, you know that your kiddos are attracted to handheld devices like moths to a flame.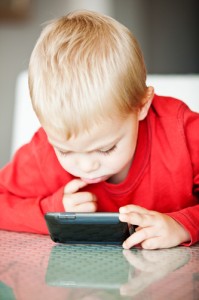 While you don't mind sharing your smartphone now and then, you do feel a sense of trepidation every time you hand over your expensive device. Your nanny friends have shared stories of cracked screens and other horrors, and if possible, you want to make sure your spendy device stays in one piece.
Fortunately, the following four tips will help you toddler-proof your tech and set your mind at ease.
Think Rugged
To effectively toddler-proof your smartphone, you have to think like your little charges. Imagine dropping your phone from a high chair or shopping cart seat, and look for a case that offers this level of protection. Griffin Technology is a great place to start; they sell smartphone cases that can handle a 10-foot drop with ease. This way, even if you are carrying a preschooler on your shoulders and your phone ends up on the sidewalk, your screen and sanity should remain intact.
Think Cushy
If toddlers are always grabbing at your phone, protect it with a super-cute and made-for-kids case. For around 10 bucks, you can buy the Fisher-Price Laugh and Learn Apptivity Case from Amazon. The durable case has easy-grip handles that are perfect for babies and toddlers, and it is drop-, slobber- and drool-proof. As a bonus, the home, power and volume buttons are covered. While you might not want to keep your smartphone in this case all of the time — especially when you are not working — you can easily slip it into a diaper bag or your purse and put it on your phone before you walk in the door.
Think Protection Plan
Sometimes it's best to be proactive with your technology. In addition to purchasing a case, it's a good idea to look into protection plans. This way, if the worst happens and your precious preschooler hands you a cracked phone that is filled with sand and covered with jelly, you won't have to shell out a ton of dough to replace it. While you can purchase protection plans for most handheld devices, some phones come with them. For example, theHTC One M9 from T-Mobile comes with a protection plan that will replace a cracked or damaged phone at no extra charge.
Think Personal Data
Toddlers are notorious for innocently playing with a coloring app, only to switch over to your inbox and start sending who-knows-what to your friends and family. Luckily, Android phones have an innovative feature that quickly and temporarily locks down the device. This feature lets you set up a restricted profile that is baby-proof and easy to switch on. Tap "Settings," "Users" and then "Add user profile" before clicking on "Restricted profile." Add the name of the kiddo and then which apps you do not want him or her to access.