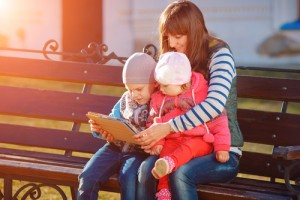 As a nanny, you're employed as the protector and caregiver of a child. Parents have the expectation that you will be aware of the child's activities and whereabouts, and will make decisions to keep them healthy and safe. Yet, the children you typically watch are considered digital natives — one of the first generations born into a world with the Internet and advanced, digital technology. They grow up with equal involvement in both the physical and the digital world. As a nanny, you should be aware of a child's online activities and interactions, as they influence the child's health and safety.
While there are risks that come with online activity, here are some tips on how you can protect children and young adults from any cyber dangers. It's hard to talk about how some people are dishonest, mean or inappropriate — especially with innocent, naive kids — but it's important to have these discussions with them. As a nanny or parent, here's some advice on how to approach issues like these below.
Cyber Bullying
Bullying has moved from the hallways of school into the realms of cyberspace. Cyberbullying occurs through texting, social media, online chat rooms and other websites. According to the 2013-14 School Crime Supplement, 7 percent of all students, grades 6-12, have been involved with cyberbullying. Meantime, 15 percent of all high schoolers, grades 9-12, have been victims of online bullying, according to the 2013 Youth Risk Behavior Surveillance Survey. With the perils that come with online activity, don't be shy about "friending" the kids you watch on social media, so you can monitor what they and their friends post. Through this type of social media involvement, you can develop an online relationship with these kids and also make sure they're not involved with negative online social interactions. Casually talk with them about online bullying and gauge how they know about it, while explaining that cyberbullying is a serious issue and that they can confide in you should they ever experience it, either as an observer or victim.
Identity Theft
Many marketing ploys exist online, a good number of which are designed for kids. Companies want information on their potential clients and will promote contests, games, questionnaires and other methods to collect customer data. The information collected by companies may be accessed by people with sinister and fraudulent intentions. Make sure the children you watch know how vulnerable they can become when they overshare information. If the child is old enough, talk about the risk of identity theft and how it can result in major financial damages. You can even take measures that will protect the digital devices of the family.
Inappropriate Content
The Internet — a vast frontier of information — provides an extraordinary range of content. While it greatly contributes toward children and teens' knowledge and interests, the Internet is also full of media and content meant for mature audiences. Websites don't necessarily come with ratings, which means a parent or nanny should closely supervise a child's online browsing. As a nanny, ask parents if they employ any parental control programs so you can also assist in the online safety of their child. If they don't employ such safeguarding measures, share your concern about inappropriate online content and recommend a program. PC World has alist of the best parental control utilities that will filter and block specific sites, words or images; block outgoing content, like personal identifiable information; limit screen time; and provide monitoring tools that access a child's Web activity and history.