According to PayScale, the average annual salary for a nanny ranges from $18,591 to $41,130. Finding yourself on the low end or mid-range of the pay scale can be a challenge to scale up financially. Instead of lowering your living costs to make ends meet, you can find extra sources of income without adding on lots of extra hours.
Not sure where to get started? Here's a nanny's guide to earning extra income so you can take control of your financial future.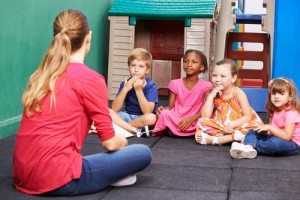 Offer specialized services
Simply marketing yourself as a qualified nanny will secure you the going rate in your area. You may be able to negotiate a small raise depending on exemplary references. But to really earn more, you need to differentiate yourself. Nannies with a teaching background or strong educational experience can offer homeschooling and tutoring services at a premium rate.
Are you good with children with disabilities? Position yourself as a nanny with years of experience working with children with ADHD.
Organic cooking, crafting and physical fitness experience can also skyrocket your income if you market yourself accordingly.
Develop a side business
Nannies already posses the skills needed to start a profitable side business. Offer cleaning services on TaskRabbit and differentiate your offering by using organic or natural products.
You may need to think bigger. Set up an in-home business through a company such as Amway to order your all-natural products to clean for clients on TaskRabbit, and offer to sell your clients your products. Suddenly you have two side businesses that overlap into your nannying services.
Create a placement service
Train other nannies in your area and help them secure their own employment by setting up a nanny placement service. Charge families a commission for setting up interviews, conducting background checks and handling paperwork. Meanwhile, you can consider charging aspiring nannies for certification programs in areas such as CPR.
For even more income, create training programs on how to land high-end clients and charge families a premium for nanny services. Package a program to train nannies on a site such as Teachable, or upload your program to YouTube and take advantage of their ad revenue program.
Nanny for a group or business
Approach local hotels, conference centers and attractions with an offer for your services. Coordinate fun day camps for kids in your area whose parents are attending a nearby function or just want a day out to hit the golf course or explore the local wine country.
Earn a profit by charging extra for on-site art classes, horseback riding or a scavenger hunt. Need extra hands? Consider using a nearby nanny service and ask for a commission for sending work their way, or use the opportunity to launch your own nanny service to local hotels.
Change your title
Differentiating your services is just one place to start looking for higher wages. But changing your title altogether can skyrocket your going rate.
Instead of thinking of yourself as a nanny, look for a job as a family manager or home manager instead. Your new title may require doing everything from balancing the books to grocery shopping and planning birthday parties, but it is likely to dramatically increase your earning potential.
You can also use the new skills to transition into work requiring management and supervisory experience. After all, it takes more than a careful eye on the kids to manage an entire household.