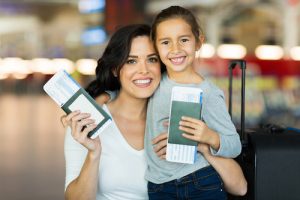 To some, it seems like the ultimate gig. You get to travel to tropical islands and exotic foreign destinations with all of your expenses included — plus your regular salary. But while outsiders may hear "all-inclusive trip to the Jamaica," a nanny hears "a long flight, a new location, no toys and strange food."
Though you may actually serve sandwiches on a blanket multiple times on the trip, being a travel nanny is no picnic; it's work. And unlike your usual set up, where the parents go to work and you're at home in familiar territory with the kids, it's all new, to you and your nanny family. So before you pack your bags, it's important to prepare, communicate and set expectations that will ensure that everyone has a successful trip.
Who Is In Charge?
Unlike your usual routine, there will be times on the trip when you and the parents are both present. In these scenarios — such as on the plane, during some sightseeing and back at the hotel — who is in charge? Many parents will want to be, but many won't. Some may prefer flying first class while you handle the kids in coach. Others may not want to undermine the authoritative status you've already worked so hard to achieve. Either way, discuss it before you set off for your destination. If you know you'll be in charge somewhere big and crowded, consider asking the parents to invest in wearable technology that keeps kids from wandering. For example, the Mommy I'm Here child locator uses Bluetooth technology to alert caregivers if a child has strayed an unsafe distance.
What Are the Expectations?
Will you be meandering through museums with the kids in tow, or will you be holed up at the hotel while the parents explore alone? Either is fine, as long as you know what's expected. Knowing beforehand allows you to properly prepare. For example, if you'll be in charge during the six hour flight, you may want to introduce earphones earlier that week so young ones won't be reluctant to wear them. And, if you don't already own one, a headphone splitter is a must. If you'll be in charge of meals and snack time, you may want to pack nutritious kid-friendly snacks, like BodyKey protein bars or Nutrilite smoothies from Amway. If given enough notice, consider following the company's Twitter page to learn more about other healthy on-the-go product offerings.
When Is Your Down Time?
For everybody's sake, it's important to remember that this isn't a vacation for you but a vacation for your employer's family. That means this trip shouldn't count as your paid time off, and you shouldn't expect to see and do everything you would've had you made the trip yourself. With that being said, you are deserving of down time. Talk to your nanny family beforehand to set aside time for yourself. For longer trips, you may even suggest a full day off to see the sights on your own instead of receiving the day's usual compensation.
Where Do You Sleep?
To cut costs and keep you close, many families expect the nanny to share a room with the kids. If you're OK with this, then by all means accept. If not, speak up. If having your own room is important to you, consider pitching the idea of an AirBnB-type home rental. That way you'll have your own space, but you'll also be just across the hall if anyone needs you.
How Much Are You Paid?
This depends on the family, expected duties and trip duration, among other things. But, in most cases, nanny employers will disburse your usual salary and will also cover food, travel and lodging expenses. Others may add a $50-$100 daily bonus to compensate you for being away from home, and others may come up with a 24-hour rate, like $150 to $300 a day, so they don't have to keep track of work hours. If you're unsure about the rate your employer has offered, do the math. According to federal labor laws, if you work more than 40 hours a week you're entitled to overtime pay at one and a half times the regular hourly rate of pay.