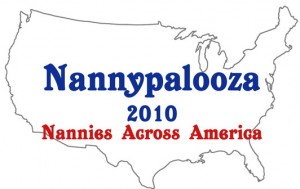 If you ever met Sue Downey the co ordinator of Nannypalooza 2010 you know that she is funny, (really funny) creative and passionate about what she is doing.
For today's Monday Moxie we wanted to provide you with more information about Nannypalooza  that you might not already know. I thought the best way to do that would be to share with you the promotional videos that Sue Downey made for the event. They are creative and informative and presented by Sue Downey in a fun way. Click on the links for each you tube video and don't forget to click back to watch the rest!
Glenda Propst
Nanny Barbie Learns about Nannypalooza!
If you still have questions about Nannypalooza 2010 and how you can attend or get involved, go to the Nannypalooza Website for more information.