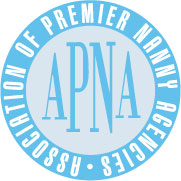 Part of being a professional in any industry is being a member of an organization that serves your industry.  Teachers, doctors, plumbers, firefighters, police – all have trade associations dedicated to their professions.  This industry is fortunate to have three organizations dedicated to serving the professionals of the in-home child care industry.  Diverse in services and history, yet united together by the individuals who support and manage these organizations.  Regarding Nannies will feature each of these three organizations – APNA, DEMA and INA in the coming weeks. We encourage you to get to know these organizations, consider membership in one or more and become involved with those that serve and our industry.
Spotlight on: APNA ~ Alliance of Premier Nanny Agencies
In 1993, a meeting was organized by professional conference organizer Janet Shannon for the purpose of forming a new organization in the nanny industry.  At the time, the only other organization was the International Nanny Association, which was an organization serving all facets of the industry: nannies, nanny agencies, nanny educators and industry support companies. This new organization was created to have a forum for agency owners to freely discuss business issues that were apart from nanny issues.  The initial group felt a need to create an atmosphere where agency owners could freely share their success and failures.  It was felt this open exchange of ideas would help each of us learn and grow as agency owners, but would also have the benefit the of strengthening the very young nanny industry as a whole.
A primary focus was to create an organization that would clearly define industry standards, but also be able to enforce those standards.  Members would need to apply for membership and talk was begun on creating the power to enforce those codes of conduct by inactivating members who did not meet those defined standards. This definition continues to be an ongoing process of the association today.
Plans were made for the first agency Strictly Business conference in Austin, Texas that was organized by Janet. The alliance began to evolve from that point, creating a formal name, voting in the first board of directors, creating by-laws, and making plans for the future.
Like any organization, the Alliance of Professional Nanny Agencies, (now called the Association of Premier Nanny Agencies) has had its ups and downs.  In general, the survival of this small group of select agencies has been due to the leadership of previous presidents.  Beside Denise Collins and Judi Merlin, the first two co-presidents, Sharyn Marcuson, Deborah Houghton and Annie Davis have all played a key role in the continuation of the organization. 
Membership is open to nanny and household staffing agencies that meet the following criteria:
a- A licensed brick and mortar agency operating for 3 years or more
b- An agency that adheres to all laws, and conducts business according to the standards established in the APNA code of ethics and standards of business practice. (see below)
APNA is unique in that all members are "vetted" for approval.  The process involves a thorough review of the agency's legal documents and agreements, marketing material, website, online presence, and references. The purpose is to determine the agency's compliance with the APNA standards.  Additionally, APNA has a complaint process similar to the Better Business Bureau designed to assure the ongoing compliance of all of it's members.
APNA currently has 44 member agencies comprised of 42 national and two international members.  Additionally, there are four sponsor members who are industry support companies.
Agencies should become a member of APNA if they wish to demonstrate that they operate their agency to the highest standards in our industry. Additionally, members enjoy being a part of a community of reputable agency owners, a community that fosters growth, education and support.
APNA STANDARDS OF PRACTICE AND CODE OF ETHICS
CODE OF ETHICS
Maintain high standards of professional conduct and integrity.
Offer assistance and accurate information so that clients and candidates can make informed choices about entering into mutually beneficial in-home employment arrangements.
Respect confidential relationships with clients and candidates.
Resolve conflicts and disputes promptly and fairly.
Provide friendly, courteous service.
Continually maintain and improve professional knowledge, skills and competence.
Obey all laws and regulations applicable to domestic staffing.
Respect the contribution of colleagues and associates in the field of domestic staffing.
STANDARDS OF PRACTICE
Interview each client to determine his or her individual domestic staffing requirements.
Interview potential job candidates face-to-face or, when not possible or practical, disclose agency's method of interviewing to clients.
Protect any confidential information received from the candidate or client.
Provide employment application and client application if applicable.
APNA members provide Clients with:
Candidate references in the chosen field for the job for which they are applying, other employment, and/or personal references.
Candidates who are U.S. citizens or who are legally authorized to work in the United States.
An opportunity to obtain a security investigation on candidates, which includes:

Check of criminal records in locals in which the candidate has resided for a specific number of years.
Motor vehicle check in locals in which the candidate has resided for a specific number of years.

A written agreement between the agency and the client that defines agency services and specifies the agency's fees and refund and/or replacement policy.
An agreement that defines the working conditions to be negotiated between the candidate and the employer.
Information regarding local, state, and federal requirements for employers of in-home caregivers, (labor and tax laws) or referral to an appropriate source for such information.
APNA members provide candidates with:
Truthful and accurate information about available domestic employment opportunities, including a description of job duties and working conditions, hours, wages and benefits.
An agreement that defines the working conditions to be negotiated between the candidate and the employer.
A written explanation regarding application fees and/or agency services applicable to the candidate; such information will be provided during the interview process and prior to placement or referral for employment.
APNA members are dedicated to…
Abiding by all applicable local, state, and federal laws.
Respecting the proprietary materials and job placements of other agencies.
Promoting professionalism in the Domestic Staffing industry.