This week, we continue our series on Professional Organizations. Part of being a professional in any industry is being a member of an organization that serves your industry.  Teachers, doctors, plumbers, firefighters, police – all have trade associations dedicated to their professions.  This industry is fortunate to have three organizations dedicated to serving the professionals of the in-home child care industry.  Diverse in services and history, yet united together by the individuals who support and manage these organizations.  Regarding Nannies will feature each of these three organizations – APNA, DEMA and INA. We encourage you to get to know these organizations, consider membership in one or more and become involved with those that serve and our industry. The newest association to provide services to our industry is the Domestic Estate Managers Association.  We asked Matthew Haack and Michael Wright, co-founders to give us a history lesson of DEMA and share with us the vision for their organization and members.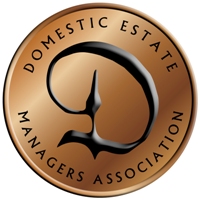 The Domestic Estate Managers Association is a worldwide educational association for the Private Service Community.  DEMA was founded in 2007 and is based out of Southeast Michigan in the United States. The Domestic Estate Managers Association was created to provide a forum for Private Service Professionals and certified service vendors interested in better serving and protecting the best interests of their clients. The fundamental purpose of the association is to raise industry standards. Our members have access to local chapter meetings, educational materials, webinars and a network of individuals striving to make a difference in the industry.
By providing the Private Service Community with invaluable resources to tackle everyday challenges we will help increase job security and empower our members to ensure they protect and preserve the estates they are involved in managing.
In a few short years DEMA is pleased to announce that our membership has grown to over 1,000 members and has expanded into over 41 states and 18 countries! In addition our Service Provider Network is host to companies in 10 states and Canada.
Based in Grosse Pointe, MI, the Domestic Estate Managers Association serves the needs of our membership.  Each DEMA Chapter is run by a local, volunteer Board of Directors made up of Private Service Professionals. Our leadership teams are led by the DEMA National President and Vice President.  DEMA National is responsible for conducting the business of the association and implementing strategies to achieve the objectives defined by our mission statement.  DEMA National sets the strategic focus, aligns staff & volunteers and all of the association's resources to achieve the desired outcomes of our members.
President, Co-Founder
Matthew Haack
Mr. Haack has been the driving force behind the Domestic Estate Managers Association from the start of our inception in early 2007. His vision for raising standards in all lines of service has been the main focus in his passion for serving those in Private Service.
Prior to founding DEMA, Matthew was the General Manager of a high-end cleaning company in Southeast Michigan that exclusively serviced estate homes in which he had many clients that were from Private Service.  Previously, he had held multiple executive level management positions in a retail corporate setting.  His track record of management has been instrumental in the success of the Domestic Estate Managers Association thus far.
Mr. Haack also served our country in the United States Marine Corps and graduated from Northwood University with a degree in Business Management.
Vice President, Co-Founder
Michael Wright
Mr. Wright has served the Domestic Estate Managers Association from the beginning and has overseen the development of systems in order to carry out our member's mission and vision. His joy of connecting people in such an isolated and private industry has been his main passion for serving those in Private Service.
Prior to founding DEMA, Michael was the Director of Marketing and worked alongside Mr. Haack at the same high-end cleaning company in Southeast Michigan.  Previously, he had held sales positions in Corporate America and had worked for many years in construction.  His past experience in servicing HNW clients in the residential and commercial construction industry has been very valuable in communicating with our membership.
Mr. Wright has also participated in and served on Board of Directors in multiple associations for different professions of management.
The Domestic Estate Managers Association currently has ten local chapters that meet on a monthly basis in California, Florida, Illinois, Michigan, New York, Ohio, Texas and Washington D.C.  These chapters could not operate without the support of our Board of Directors who volunteer their time and efforts in each local area.  Each board is made up of different professions within the Private Service Industry.
We have six membership categories: Private Service Professionals, Principals, Service Providers (vendors), Affiliates (typically worldwide and nationwide product and supplier companies), Domestic Placement Agencies and Domestic Schools & Educators.  Each has different requirements that can be viewed on our website.
Anyone who serves or maintains a residence can qualify to become a member of DEMA.  Our Professional Members will usually have one of/or a combination of these titles: Butler, Caretaker, Domestic Couple, Elder Caregiver, Enlisted Aides, Estate Manager, Household Manager, Houseman, Housekeeper, Major Domo, Nanny, Personal Assistant, Private/Personal Chef, Private Jet Staff , Property Manager and Yacht Crew. Furthermore, anyone who is currently seeking to become a Private Service Professional may join under this membership category.
There are many things that make DEMA unique, but here are a few:
We CARE & listen to our members. DEMA is in constant communication with them by phone, email and monthly meetings.  (Example, DEMA reps call all new members within the first 48 hours after they join to welcome them to the association and see how we might be able to help them)
We are the only organization for Private Service that is committed to having a platform for our members to network face to face on a monthly basis.
We encourage all the different people and companies that are involved with PSPs to join and become involved in the association.
Our character and integrity are second to none.
In a few short years DEMA is pleased to announce that our membership has grown to over 1,000 members and has expanded into over 41 states and 18 countries! In addition our Service Provider Network is host to companies in 10 states and Canada.
The reasons for people to join associations will be different for each person, please visit our website to view membership benefits for each membership category.  Here are a few examples that are all focused on giving our members education in many different areas:
Exclusive online resources
Webinars, Article Library, Video Library, newsletters and surveys
Networking opportunities
Private Social Network only on our site
Monthly educational meetings
Conferences and seminars
DEMA Townhall Meetings that cover a variety of topics.
Support systems
Online forums
Private online Groups specific to each membership category
Career Center with agency member job postings
The new DEMA website launched June 15th!!!  Private Service dues are only $50 per year.
Domestic Estate Managers Association Mission Statement:DEMA and our members have a mission to develop and provide a transparent platform of consistent standards, continuing education, networking opportunities and an attitude of cooperation in a unique and dynamic profession.  All the while, serving and providing services to our Principal Employers to the highest standards available within and outside of this association.
All of our members choose to operate with INTEGRITY, TRUST, CONFIDENTIALTY AND MUTUAL RESPECT as their foundational cornerstones toward service. Furthermore, we are motivated by an attitude of service that is driven by these cornerstones and Professional/ Personal Relationships, Lawful Behavior, Dedication, Continuing Education, Personal Development and Mentorship with each other.
Domestic Estate Managers Association Vision Statement:By becoming the largest association for Private Service Professionals in the world, our members will be able to leverage our resources to raise industry standards not only in the Domestic/ Private Service Industry, but also the standards for anyone that provides service for the most demanding clients.