As professional nannies, we do a lot in and out of the home with our charges.  We take them to and from school, classes, play dates, shopping,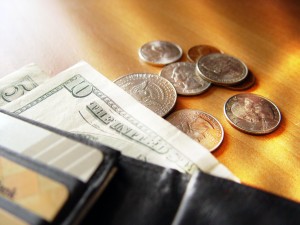 errand running, out to eat, grocery shopping, field trips and fun adventures.  In these aspects of the job, we often are in need of money for these things.  The topic of petty cash can be a sticky one for nannies and families at times.
Recently I asked via Facebook, how nannies handle petty cash at their jobs. The answers varied and some were the same.  I was intrigued to hear about the nanny who has a joint checking account with their employers.
There is no right or wrong way to handling petty cash.  You have to be comfortable with how you and your family handle it.  If you don't have the "cash" to cover things till you get paid back, then you need to communicate with your employers and let them know.  There are ways to handle the "cash" flow without it draining your wallet. It should never affect your finances.  There is also a level of trust that needs to be there between you and your employers when dealing with cash and credit cards for your job.
If you are added as an authorized user to your employer's credit card you must know that it does show up on your credit report( this is no longer true, please read this for clarification) .  If you leave a position and your name is attached to their credit card, you need to call the account and have them remove your name.  You could end up being responsible for their debt if they don't pay their bill etc.   Flip side is that if you use your personal credit card and cash for work purposes you are the "assuming" the "debt" and you risk the chance of not being paid back for the expenses. I have seen this happen a few times when nannies use their personal finances for things to do with the kids and the parents never pay them back. This is not a part of your nanny job-to pay for their child's entertainment, activities and food. It is hard but you must discuss it with your employers and not take spend any more money till they pay you back and/or come up with a petty cash plan of action.
Here is what folks had to say:
They pay for things out of pocket and the parents pay them at the end of the week
They use a credit card given by the family. If they need cash they get paid back at the end of the week.
They had a fund of $100 and when low it would be refilled to $100.
Envelope is used with $40 and receipts are put in there and refilled.
They keep $20 of the employers' money and use the credit card (employers) for everything.
They have a binder with household and activity info inside with petty cash. They keep the receipts there, often times there are none. They have developed a level of trust. If they go over the cash available, the family reimburses as needed.
Had a monthly budget of $1000 to use for all classes and child-related activities, etc. The money was to be used monthly.
Use the credit card for everything and ask for cash ahead of time if known it is needed for something. Otherwise paid back.
Cash is left in a "kitty". Make a note of how much is in "kitty" when taking some out, and then write down how much was spent along with the receipt. This is also noted in the daily log book.
They have a checking account in both the nanny and employer's  name. It gets a set amount on the first of each month. If it is running low they let the employer know and they are given some money to tide them over till the next month. The receipts have the tax circled &      put in the box so the employer can deduct it. The non tax receipts are kept for a month then tossed. The checking account keeps         records of where and how much is spent monthly.
Employers request receipts to match to the credit card bill and cash given monthly. This is done to the penny and employer questions     when it doesn't match up.
Have a credit card from the family and do not need to keep receipts.
Have a credit card and envelope for cash. Keeps gas receipts only.
As you can see there are many variations of how to handle petty cash in your nanny job. How do you handle petty cash in your job?
Thank you to the following nannies and people who shared their experiences: Christine R, Marcia H, Michelle L, Taylor A, Michele G, Brandi H, Tiffaney S, Kari E, Beth W, Anne-Marie S, Carol S, Mary Jean R, Pam Y, Stephanie D, Carli L, Lisa B
post written by Alice Shaffer, The Financial Nanny
Article edited on July 3, 2011  to revise the information on credit reports.