One of the things I miss about Nannying for little ones is arts & crafts.  I miss preparing for the craft – the shopping for supplies, the laying out of the craft and then watching the joy of little hands create a masterpiece only they know what it is.
In all of my jobs, arts & crafts has been a welcome and encouraged part of the job.  I was able to create boxes of supplies and do creative outings and projects with the kids.
Given an unlimited budget, this would be my ultimate craft box for every job …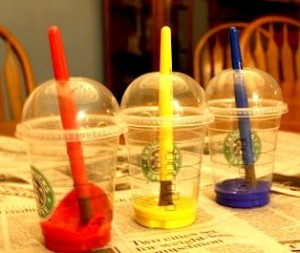 Store bought:
Pom poms
Googly eyes
Yarn
Ribbon
Glue / glue sticks
Hot glue gun
Tape
Popsicle sticks
Construction paper
Pipe cleaners
Paint brushes
Paints
Silk flowers
Scissors – age appropriate
Stickers
Jewels / jewelry supplies
Buttons
Paint Samples on Paper (mostly free at stores)
Pasta – all shapes and sizes
Beans
Rice
Sand
Empty water/soda bottles – all sizes
Clothespins
Muffin liners
Paper clips
Recycled from around the house:
Paper towel and toilet paper holders
Yogurt containers
Packing peanuts
Foil pans
Fruit containers – from grocery store, that fruit packaged in
Sponges
Milk / egg whites / half& half containers
Egg cartons
Old mail
Magazines
Paper
Newspapers
Rubber bands
Boxes – cereal, etc.
Costume jewelry
Photographs – old and copies
Old t-shirts, clothes – old dress shirts make great pain smocks for little ones.
Resources to buy supplies:
Michael's
AC Moore
Wal-Mart
Warehouse supply stores
Oriental Trading
Dollar Store's
Clearance sections of stores
Purchase   large totes, or other storage that suits your needs and space to store all the supplies in.  Label what is in each tote for easy use in the future.
Other suggestions:
Ask family and friends to save their household supplies, especially when working on larger projects
Shop garage sales!  Another person's 'trash' is another's treasure!
There are dozens of websites and facebook pages dedicated to crafts – supplies and projects.  Sign up for newsletters, like pages.
Explore Pinterest!
Here are some of my favorite examples of what you can find on Pinterest …
I know there are many other supplies and resources out there … What are your favorite must-haves for a craft kit?
by Kellie Geres, Regarding Nannies Development Team member