Today's guest post comes from NannyFusion contributor Donna Shannon The Personal Touch Career Services.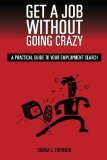 Do you suffer from "Shrinking World Syndrome?"
One of the problems with job searching is the isolation, especially if you aren't working right now.  The days blend into each other, often filled with loneliness or a sense of emptiness as you pore through the job boards once again.
This is "Shrinking World Syndrome:" the tendency to fall into repeated patterns of inefficiency.  As it continues, it gets harder and harder to think of ways to break out of the rut – and your world shrinks.