I love Sidewalk Chalk.   The joy it brings to children and their creative imaginations!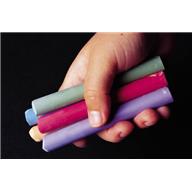 For those who are crafty, here's a way to make your own Sidewalk Chalk .   Take it one step further, and here are some creative ideas for photo ops and some great photo gift ideas!  
My favorite Sidewalk Chalk moments are writing Welcome Home messages to parents in the driveway after a trip away, or having the kids lie down and trace their image and have them fill in the body with chalk drawings.
What's your favorite Sidewalk Chalk moment? 
Thanks to Nanny Gael Ann Dow for giving us the tip on this feature!
by Kellie Geres 
Regarding Nannies Development Team