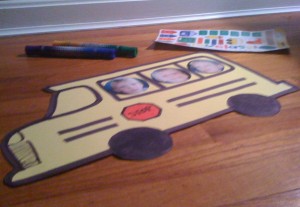 The school season is approaching soon! (By the way, someone needs to tell Hobby Lobby it't too early to be buying Christmas decorations). You can feel it in the wind…transition. Last year, the triplets I care for began preschool 1 day a week. I was a little nervous for this, wondering how they would adjust to being left for 2.5 hours at a time. I decided to make a poster to help transition them into this new environment. When we went to "meet the teacher" day I took pictures of their classroom and teachers.
I hoped that posting these would give them a little more comfort. I added stickers, their names and pictures of their new backpacks coming in the mail. They loved these so much, that I decided to do something similar again this year. This year, another transition – riding the school bus to a new school! My hope is to bring some excitement and understanding as the big day approaches!
Creating your Back to School Poster!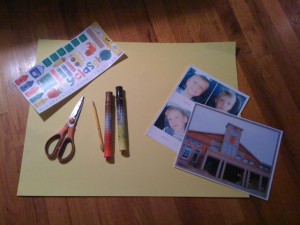 1) Decide on your  theme
I always think functional. What do I want to talk about with the kids? I don't want this to just be decoration but a learning tool. I wanted to focus on riding the school bus and the new school that they are attending, to eases their transition.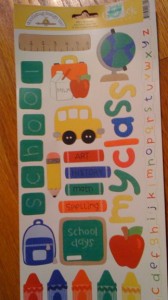 2) Pick up some cheap supplies
I always look through supplies that I already have, and buy a few new as needed. I love finding cheap scrap-booking stickers because they come in themes. There are some really cute ones with school themes for all the different age groups!
3) Make it personal
I plan to add the boys' face pictures to the passenger windows on the school bus. I know that they will love to see themselves ON the bus! I wish I could share the finished product with you, their little smiling faces are just so adorable on that bus!
4) Make it practical
Last years posters went into the trash, so I thought more practically this time. I plan to laminate the school bus before applying the pictures this year. That way I will be able to use this bus again each year, updating with current pictures. I will also be adding the kids' teachers pictures to their school poster after "meet the teacher" day.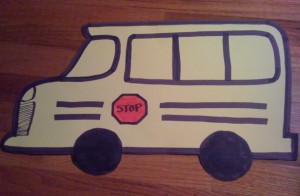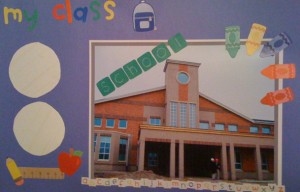 What visual aids do you use to help transition your children?
Make it a Creative Wednesday!