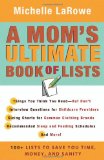 Michelle has gone from 2004 INA Nanny of the Year ™ to mom in a few short years.  She has taken her years as a career nanny to motherhood and leads us on an adventure of references and resources sure to help all moms and nannies out there, with A Mom's Ultimate Book of Lists.
Starting at the beginning "Preparing for Baby", you'll be guided through pregnancy, delivery and choosing a pediatrician (list 14).
Proceeding through the First Years, the Toddler Years and the Preschool Years, Michelle guides readers through sleep issues (lists 23, 36 & 49), age appropriate toys (lists 25, 40, 55), nutrition (lists 20, 35, 50) and developmental milestones (lists 24, 39, 52).
Moving along, readers are provided with helpful lists for family and friends covering age appropriate chores (list 69), travel tips (list 71), fostering friendships (list 77) and dealing with sibling rivalry (list 76).
A must read section covers general health and safety includes a list on allergies (list 82), basic first aid (list 86), childproofing guidelines (list 92), and questions to ask when interviewing a child care provider (list 96).
What list make isn't complete without having a list for budgeting (list 97), time saving tips (list 98), bargains shops (list 100), and a weeks' worth of easy Family Friendly meals (list 103).
Easy to read, follow and implement, this is a must have book for all families.  It's a great gift for new parents!  Michelle LaRowe has done it again for readers, parents and caregivers.
Michelle LaRowe is the 2004 International Nanny Association Nanny of the Year™ and is the author of the Nanny to the Rescue! parenting series.  She holds a degree in chemistry and a certificate of pastoral studies and has spent more than a decade as a professional nanny and parenting consultant.  She and her husband Jeff, live on Cape Cod with their daughter Abigail and son Luke. To learn more visit www.michellelarowe.com .
Excerpt from A Mom's Ultimate Book of Lists
List 105
Ten Things a Mom (or caregiver) Should Never Leave the House Without
In addition to your keys, wallet, cell phone, and sense of humor, there are some other essentials that you should never leave home without.
Cash
Bottle of water
Nutrition bar
Hand sanitizer
Baby wipes
Comb or brush
Dental floss
Pain reliever
Pen
Your calendar
Dental Floss? In addition to being used to get gunk out of your teeth, dental floss can be used as string, thread, a makeshift hair band, or to clean out small crevices.