By Janice St. Clair
Lighting Their Fires: Raising Extraordinary Children in a Mixed-up, Muddled-up, Shook-up World
By Rafe Esquith, elementary school teacher, and author of best-seller "Teach Like Your Hair's On FIre"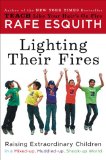 You may have heard in the news or on Oprah, of the teacher that organized his disadvantaged middle school students to put on excellent annual productions of Shakespearean plays.   In this book, the author tells step by step how parents, teachers, and caregivers can guide and inspire children to love learning, to organize themselves, and to embrace values that develop them into not only excellent students and toward becoming successful young adults, but into becoming discerning, considerate, honorable people.
Shakespeare is only mentioned briefly in "Lighting Their Fires"…this is a very engaging and easy-to-read-and-understand book:  the author hangs his message on the inning-by-inning story of his class's trip to a major league (Dodgers) baseball game.  He uses the student's interests, skills, and behavior there to illustrate how some of these lessons are imparted and how they have taken hold.   We meet the individual children, and hear how they manage the rude behavior of adults and other children seated in front of them, read the author's earlier memories of these students, and are led step-by-step through the transformative approach the teacher used to engage their critical thinking both earlier in the classroom and then at the ball game.
Some teachable moments occur during everyday interactions, and some planning goes into teaching children good social skills and decision-making skills.   Part of success is realizing you have options, identifying and evaluating them.  For instance, in the author's classroom he teaches a system for evaluating options on big decisions:
Divide a paper in half and list pros and cons of each decision.
But first, ask yourself the following questions:
* Will this choice help me achieve my personal goals?
* Will this choice hurt the people I love?
* Am I making this choice for myself, or am I trying to please someone else?
*What will I have to sacrifice if I make this choice?
*Will this decision affect people I do not know, either for good or for bad?
*Are there financial factors to consider?
——————-
Some of the practical aids we can use with school-age children to stimulate skills they need to succeed, taken from the book, are really better absorbed along with the fire and confidence the author inspires in the reader for bringing the best out of children at home.   But here are some of these tips anyway:
Chess:   If possible, interest your child in chess–it is an excellent way to develop concentration, then patience, sportsmanship, and planning ahead.   The author recommends giving the child the book "Every Great Chess Player Was Once  a Beginner," by Brian Byfield.   The book is hilarious, and keeps the young reader learning while laughing.
Other games:  Mastermind, and Scrabble
Mastermind can be learned in 5 minutes, but with all its levels of play can be enjoyed for a lifetime.   It's great for concentration, and for acquiring math and logic concepts.   Regular Scrabble players become strong readers/writers/communicators despite this era of declining proficiency in these areas.
Other recommended activities:  Assemble scale models, read good books (mysteries especially exercise the mind), learn a musical instrument, try various art classes.   Encourage kids to do what they love.
The author recommends certain books for various ages of children to inoculate them against some of the dangers of today's society, and to inspire considered choices.   Dr. Suess's "Oh, The Places You'll Go" is recommended for all ages.  "Animal Farm", by George Orwell, is great for alerting kids to the need for thinking for themselves, and a great book to alert older kids about letting others manipulate them through TV is Ray Bradbury's "Fahrenheit 451".  "Huckleberry Finn" shows Huck wrestling with himself over making the right decision about whether or not to turn in runaway slave Jim, and courageously choosing to "go to hell" in order to do what his careful consideration has shown him is right.   And "To Kill a Mockingbird," by Harper Lee…need I say more?
Movies:   Network (1976) is a classic satire, for mature high school students with adult guidance.   It illustrates that tv producers are driven by profits and ratings, and will help young minds turn away from destructive but currently popular shows.    Even better, the author recommends viewing Robert Redford's   "Quiz Show" (1994), about the game show scandals of the 1950's, which also illustrates the seductive and dishonest nature of advertising-based TV.
I highly recommend reading this book cover to cover.   It's inspiring and helpful, and could make a big difference in your success and enjoyment in caring for school-age children!
Wishing you well,
Janice St. Clair
Career Nanny
Founder and Facilitator of
Boston Area Nanny Support Group (BANSG)
An independent group of nannies helping each other, since 2000
***NANNYPALOOZA BOSTON Conference:   
Proud member of MAPN (Massachusetts Alliance of Professional Nannies)