I'M IN LOVE! (My Britax Stroller Review)
By: Greta Schraer
Yes, yes, I am in love. It was love at first sight! ….OK, maybe it was love at first demo.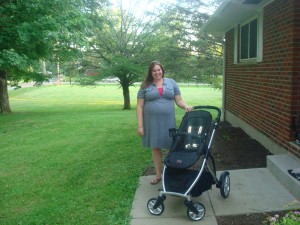 A few months back, my mother-in-law and I went to check out a new baby store in our city. At that time I was only 12 weeks pregnant, but I wanted to see if it was a place I would register. I planned to buy nothing. When we got to the stroller section I was amazed at the options floor to ceiling. As a nanny, I never got to pick out a stroller, but had used many brands and kinds. It was a little overwhelming just looking at the options, but as I talked to mom I explained it must function well and have great maneuverability. Beyond that, I had given no thought to what I wanted.
We saw a store employee doing a demonstration with the Britax B-ready and stopped to "ooh" and "ah" with the other ladies. He quickly removed and replaced toddler seats and infant car seats with ease. He then folded the whole stroller to stand on it's own. My appreciation for multi-purpose and multi-function had my eyes locked. "What else can it do?", I thought. That is when I saw this stroller become a double! WOW. As the demo concluded, I had to get closer. I was anxious to get my hands on this stroller and see if it FELT as good as it looked. To my surprise it glided on the floor with the use of only one hand. That was the moment. See I have worked the last few years with triplets (they were babies, toddlers, and now preschoolers). We used a variety of strollers with the boys over the years, and I often longed for that comfortable and easy push I'd felt that day on the B-Ready. The employee spoke about the stroller from personal experience as he had purchased one for his own 2 year old child;  he knew the ends and outs of how it worked and the safety it brought to his family. I took a few pictures as we left. I was determined to do my research before I invested in the stroller and car seat.
When I got home, I spent a half hour on the Britax website watching the video demos, reading the facts, and studying the features. I was very excited to find the stroller that fit with an infant car seat with incredible safety ratings! I liked the look of a more modern stroller. I liked that this stroller can grow as my family grows.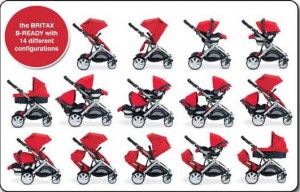 I loved that the stroller has so many options – 14 configurations !?  (See picture to the right.) I love that I have the choice each time I am on an outing to design the stroller that will function best for that day. I have the choice to modify the seats depending on the child and what they are liking at that stage. I also loved the available storage and how large it was. I was infatuated and I was sold.
I am so excited now to share my stroller with you! Below is a picture utilizing what I call the toddler seat. It is for babies at least 6 months old and can be used for kids weighing up to 55 lbs. That means that one of the triplet boys, now each weighing between 40-50 lbs, could take a ride! In this picture you can see the seat forward facing. It is reversible if adult and child want to view each other. The seat has 3 recline positions.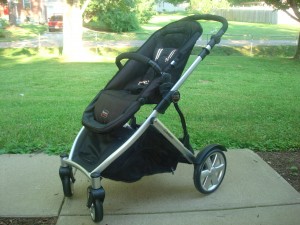 In this picture the canopy is added. I love how deep it is, giving great shade to the baby (or bear) in the seat. There is also a sun-visor on the end that comes down just that much farther.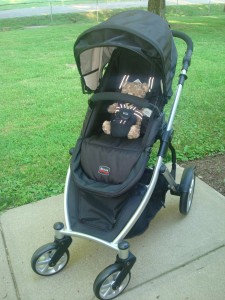 With this side view, you can see how huge the canopy can be. It is removable if not needed. Also in this view you can see the adjustable handle. It  can be moved high for tall adults, or even folded all the way down for children who want to help mommy push the stroller.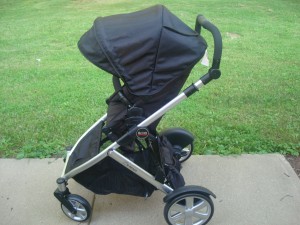 As I said the stroller has 14 different configurations. Here is the Britax Chaperone infant car seat (in "cowmooflauge") that pops into the same frame with the provided adapters – at no extra charge. Check out this link, showing why the Chaperone is set apart in safety!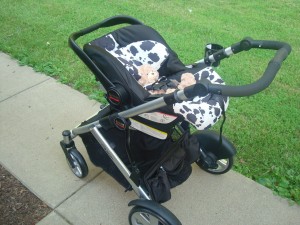 Like I said, this stroller has so much to offer and Britax has thought out some very practical features. Here are some of my favorites. This is the view from the handle behind the stroller, with seat facing forward. The canopy has a built in ventilation window. Not only is this great to allow air to flow, but it is a great way to peak on your child without stopping and walking around the whole stroller. And, folks, this is not a velcro closure, but a silent magnet. LOVE IT! Now, you won't risk waking a child asleep in the seat. Also pictured is the cup holder I will use for my coffee. It is removable if not needed or desired.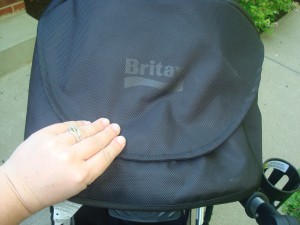 Below, you can see the adults view in the window, Mr. Bear looks to be sleepy.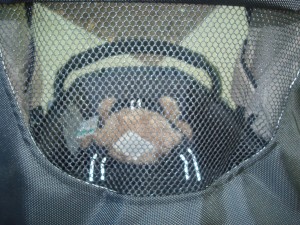 The pouch can be attached near the wheels. Two cup holders are insulated, great for keeping your drinks at the right temperature while out and about. The middle zipper pouch is great for keys, or other items you want to secure.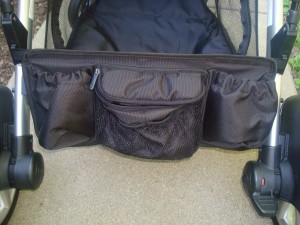 I love the brake. It has a small window where red or green color will show – red for locked, green for unlocked. It's very easy to tell if you are still and stable, or ready to roll. With only one easy step, both wheels are locked!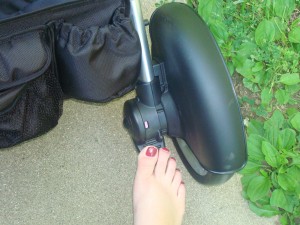 The storage underneath is accessible form the front and both sides in addition to the back being open. This comes in handy if you are helping your child in front of the stroller and need to grab something. I love little time savers! It is also great if you are using the stroller for two children and the 2nd child is blocking the the back access. The storage compartment is also completely removable – just unzip all the way around.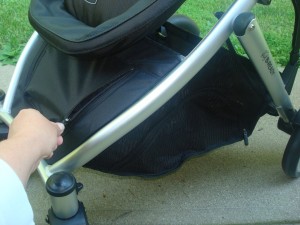 The stroller is very easy to close and fold. Simply pull up on both sides of the stroller handles and pull towards you. The stroller easily folds into a standing position.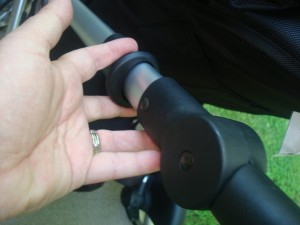 In this picture, the stroller is folded with the toddler seat attached! Can you believe how compact it is?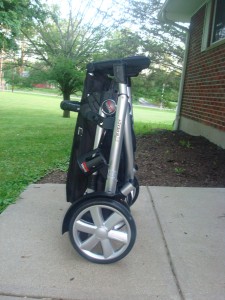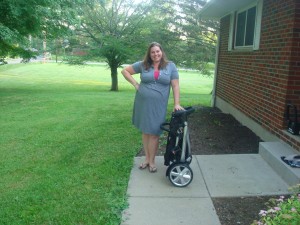 I am super happy with the Britax B-Ready Stroller and Chaperone Car Seat. This is the one thing that I knew that I wanted new for my baby and future children. I see that the quality and function will last years to come. It is definitely my favorite baby item so far and I cannot wait to actually use these with my own child in 12 weeks!