By: Greta Schraer
It's almost August and the summer has started to heat up! While it is great to get out to pools and waterparks, sometimes the air conditioning calls to kids just as much. This month, I want to share with you some fun summer inside crafts to make those too hot days go a little faster. Prep for a few of these, and have them ready when your kids are. Oh, and along the way of this post I will share of few of my favorite resources to search for crafts!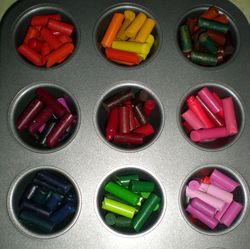 DIY Crayons
What a great solution to all those broken crayons! This just looks fun… and easy! Simply cook the crayons in the oven until the melt and take them out to cool and harden. Use this idea to teach "yellow and blue make green" or let the child see what happens when they add a bunch of different colors. Circle disc crayons…fun for all ages!! Can I tell you how excited I am about this craft. Try a mini muffin pan if you don't have enough crayons for a regular size muffin pan.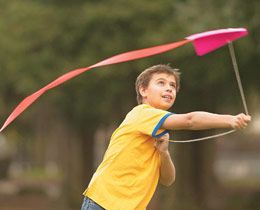 20-Minute Kite Craft
From paper airplanes to kites, what a great idea for active boys and girls that think they need a new toy to  keep them busy. You may just have all the supplies around the house ready to go. I found the craft on Family Fun, a great resources for long summer days!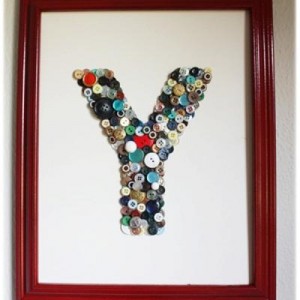 Button Art
I love this idea for a pre-teen or teens to add decoration to a room or make for a gift. Start with a simple outline of an initial and then fill them in with buttons. Make one for yourself as well for your own place! Cute, cute, cute.  I first found Tip Junkie through Facebook, and "liked" it right away. I bookmark ideas from them often!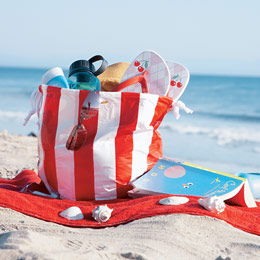 Trash Beach Bag
When I first saw this bag, I thought, "that is so cute". Once I realized it was made from a garbage bag and duct tape, I loved it that much more. I have been nicknamed "the bag lady" because I just love my bags. I love the thought of creating this with your kids before heading off to vacation, letting them enjoy their own creation on the beach!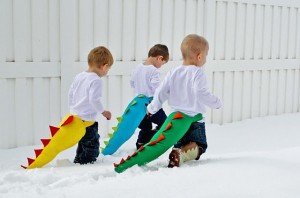 Dino-tails
How cute are these? I could just see the triplet boys running around with their own tails on, singing "Dragon tails, dragon tails…" Though I cannot sew myself, I am sure that many of you could fashion these for and with your kids. They would also be a great gift for boys that like to dress up, sometimes it's so hard to find things they love too.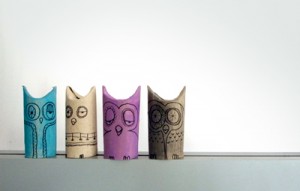 Owl Rolls
So simple and so cute is another craft made from  toilet paper rolls. Fold down one end and paint/color the outside.I love this cute family of owls, why stop with just one? Start saving those empty toilet paper rolls!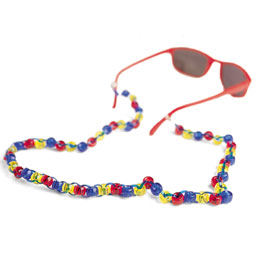 Beaded Sunglass Chain
I enjoy crafts that are not only fun and easy to make, but that actually have a use. This beaded sunglass chain might be useful for a day at the beach or amusement park to help your child hang on to those sunglasses! Plus, they will be so proud that they made it themselves!