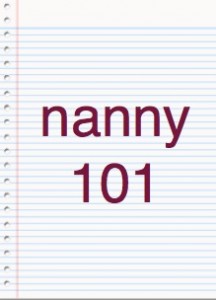 Finding the "Perfect" Job is like finding the "Perfect" Marriage. By the true definition of the word perfect, both of these are impossible. Still, I believe there are a few lessons that can be learned and applied to a job process that can help it be a successful one. So let's get started with today's class.
Nanny 101: Finding the "Perfect" Job
By: Greta Schraer
Lesson 1: Know Yourself
Just like each job is unique, each person seeking the job is unique. You bring with you personal expectations of the future and frustrations of the past. However, each experience you have had has prepared you for the future – if you choose to look at it that way. Take the time to ponder the things that you have enjoyed about your previous jobs and families, and the things that you haven't. Maybe you love to travel, or hated to travel. Maybe you have worked with a stay-at-home-parent, and that was a really hard job for you. There likely have been things you've loved and things that have stressed you out. Make a list of things that make you happy and things you cannot work with. Prioritize them and make sure that the key factors are items that you weigh throughout the process. How important is freedom in your job? Do you prefer a schedule that  is flexible or structured? What parent personalities are ideal to mesh with your own? There are many factors that are less right and wrong and more what you deem a good fit for yourself.
Example: Nanny Rachel loved all children. She loved working with big families with many children at all different ages. As she thought about her ideal job, she had a baby on her hip, peeking out the window at the grade school kids on their bikes, all  while helping a pre-teen with their homework. A house full of action was both challenging and fun for her. While interviewing with a brand new family with a infant newborn, she wondered how long it would be before they had another baby… until she stopped herself. She knew this was just not the best job for her.
Lesson 2: Take time to Really Know the Family
I know nannies that have accepted positions too quickly. Because the economy and lack of jobs available, I have seen many take positions after the first interview. While a first impression is important, if you are looking for a long-term position, take the time to really get to know the family, including the children. I suggest a first meeting with the parents to get to know them and connect lightly (I very rarely have talked contract specifics in the first interview). A second meeting is a great time to meet the children and see the house environment you would be working in. Observe how the family operates with each other and how the household is run. Ask for references about the family, is there a previous sitter or nanny that you could talk to?

Ex: Nanny Dana was on her first interview with the Evans family. The family seemed really sweet and their current nanny, staying late to cover the parents interview was nice as well. The two-year old twins walked hand in hand with the nanny, who seemed to have a great relationship with them. They all went on a tour of the beautiful, huge house. First up to the twin's room. Nanny changed their diapers one at a time, while mom sat on the floor and watched. "Hmm", Dana thought, "why didn't mom help?" As they walked around Dana noticed that there were no toys or evidence of children living in the house until they reached the basketball court in the basement. This must be where nanny and kids spend most of their time. Later on, Dana thought about what she had  seen. Did mom help with the kids at all? Would she be stuck in the basement with no windows all day. Dana had a few questions she would have to follow-up on with the family and their references.
Lesson 3: Critique, Compromise, and Contemplate
No matter how much you need a job, really open your eyes to possible red flags. Like I said NO job is perfect. So, it there will be imperfection – what could that be? You are your only advocate. Look around, really listen and critique the possible positive and negative aspects of the job. What are you willing to compromise on? Go back to your priority list and compare. Take time to really think about the job. Talk through the job with a mentor nanny that has been around the block and very much knows you and how you work. You may even think about a trial babysitting job with the family. Even better, discuss a trial first week or two.
Example: Early in her search, Nanny Eda thought about what she would not accept in a position. She had worked twice now with a stay-at-home parent, and felt uncomfortable with the situation. She had been searching for a job now for 6 weeks and her last interview was with the Birch family. Mr. Birch worked out of an office in the home. Nanny Eda spoke with a mentor, Sara,  about the job. Sara was surprised that she would think about taking a type of job she said she didn't want and challenged Eda to think long-term. "Are you sure you want to compromise that much? Will you be happy for 6 months, a year, or longer? Nanny Eda ended up turning down the position and 2 weeks later found another opportunity that fits her well.
Lesson 4: Lay a Foundation
You may find a  job that is a great fit, however, bad communication or lack of contract could ruin the great start. This relationship is long-term, and words will be forgotten if not written down and reviewed often. If you have met the parents and  the kids and all is sounding and feeling good, you should begin to talk specifics. Have a list of information that you need answers to before accepting the position. Put everything in writing – a work agreement or contract – and sign and review each year you are there.  Some of these details may be: pay, pay schedule, taxes, certifications & education opportunities, benefits, insurance, hours, overtime, cleaning duties, discipline, how you will communicate, nanny's philosophies, parent's philosophies, house rules, transportation, guests, mileage, petty cash, phone/computer use, inclement weather plan, sick and vacation days, holidays, maternity leave, goals, raises, bonuses, overnight and travel arrangements, giving notice of quitting/termination, etc. The more information you have the better your future is prepared for. These issues will come up throughout your job, and it is a lot easier to talk them with a foundation that has already been laid out. You will have a chance to see what the future will look like as you talk these details. How the family responds to your hopes and expectations will tell you a lot! It really is a safety net that benefits the nanny just as much as the family. That foundation just may preserve your job. And, in my humble opinion, this is the best thing you can do for your career.
Example: Nanny Heather is so excited to be accepting a new position with the Snider family. As they discuss pay and vacation, the Sniders share that with their former nanny they allowed 1 week vacation the first year, 2 years after the first year, but all vacation has to be when their family goes on vacation. Because Heather has her own children and their extended family takes an annual trip each year, she was not comfortable with what was offered for vacation. This vacation has come to be very important to all in her family.  Heather spoke with her husband and they thought to create a positive solution. She requested that the week she's go with her family be unpaid the first year. Also, she suggested the 2nd year – one week the family decides and one week was her choice, both to be paid. Though they handled vacation differently with their prior nanny, the Sniders were open to compromise as long as the details are planned out in advance. It was worth discussing early on – now Heather, her family, and the Sniders were all pleased with the vacation plan.
Homework Assignment:
1. Write down a description of your ideal job. What are some priorities? What are some things that you cannot work with?
2. What are some red flags you should have seen in a previous job?
3. Make a list of items that must be discussed and agreed with on paper.