If you havent heard, I just had a baby! His name is Isaac George, and I thought I'd share a few pictures.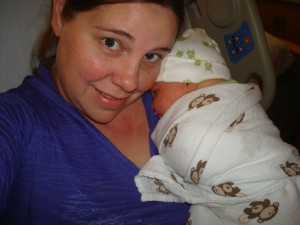 Isaac and I getting ready to leave the hospital (2 days old).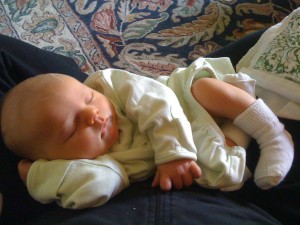 Isaac sleeping on my lap (1 week old).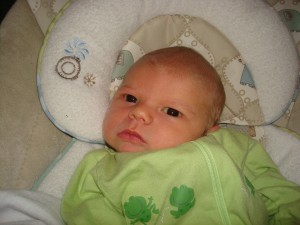 Isaac with his eyes open. (2 weeks old).
I am on maternity leave and surrounded with all things baby. The next 3 months of My Favorite Things are going to be pretty baby focused, so I hope that I don't bore all you big kid and teen nannies out there. I am just here, in babyland, so I thought I would bring you along!
I registered at Target and Buy Buy Baby. All items can be found at one of those places, some of them at both!…Oh, and they are in no particular order. Click the titles to link to the products.
My Favorite Things – Top 10 Items on My Registry
By: Greta Schraer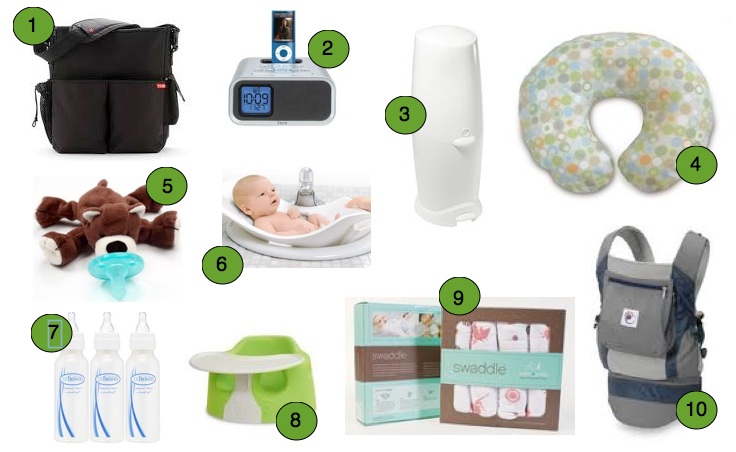 1. Skip Hop Duo Diaper Bag
I love my Diaper Bag already. This is just the right size for a daily run with Isaac. It is tough and I am sure will wear well. It can easily be cleaned and has lots of practically sized pocket. Another thing important to me is that it doesn't scream "I am for a baby"! I figure it's more MY accessory than baby's, so I want it to feel like me and match my stuff and be my style.
2. iHome
I have an old iPod that has been needing to find a purpose in life again. This iHome is the dock for Isaac's nursery, and plays lullabys for him. I have created playlists and can easily update the music, just like I do on my iPhone. I love that the clock screen on this model can be dimmed, so the blue light doesn't brighten the room. The clock is great for late night feedings. My baby just had to have to have some technology in the nursery!
3. Diaper Genie
This is a standard… simply a "must have". I was impressed with the strength and smell protection of the Diaper Genie when the triplet boys were in diapers. We had some powerful diapers… times three! There are other diaper pails that don't have refill cartridges, but use regular garbage bags. To each their own. After doing the math, the extra $100/year for the refills was worth it to me for the function of this model.
4. Boppy
What did we do in this world before the boppy? This multi-function pillow is another staple in my nanny life and is near me most of these early days in my mommy life, as it supports nursing. It is great for laying babies on their backs or tummies propped up, and a great safety for babies who are still learning to sit up on their own. I had many laughable moments with baby N when he would teeter and fall back on his boppy! I have a few covers to go with it, so it can be in use while the cover is washing.
5. Wubbanub
This is not only cute but functional. This paci pal makes it easy for baby to find in the crib at night. I also find that it makes weaning baby off of the paci easier. Cut or remove paci, but baby gets to keep the animal. Cute website too!
6. Puj Tub
This item creeped into my favorite things last year, long before I was pregnant. I was intrigued and wanted to try it. It has proved easy to use in my kitchen sink and so practical for storage. It hangs flat in a shower or closet and is light weight. Goodbye large, bulky, baby tubs!
7. Dr. Browns
My favorite bottles! A must have. We have already used the 4 oz bottles, but Isaac will use 8 oz. in no time.
8. Bumbo Seat
This will be Isaac's first chair. We'll use it for feeding, playing, hanging out together while I do chores. I even plan to take this to the beach on our first trip this summer. I love the bumbo, along with many people. I did receive 3 of them for showers, I think people just like buying them because they are a great product!
9. Aden & Anais Swaddles
This was one of my splurge items. I loved the look and feel of these multi-funtional swaddling blankets. After talking to 2 new moms who said they are worth the price, I decided to give them a try and added to the list. I love the size, the fact that they are square, that they breath and the type of fabric. They were great swaddling right away at the hospital and now at home. I love to take them along in the car seat too. They can be a blanket, a cover from the rain, or a nursing cover. Isaac seems to love them too!
10. Ergo Carrier
When I received this at my first shower as my first gift, I was so excited. I got it home and tried it on with baby's first bear. I was surprised how it fit comfortably even though I was 28 weeks pregnant.  I have heard so many great things about this carrier. I also was given the infant insert, so baby and I will be using very soon!
Next month, I will show you how I keep baby organized with "My Favorite Things – Organizing the Nursery". Even if you are not in babyland, I hope that you get some great ideas on staying prepared and knowing where things are. I am a sucker for any container, and will show you all my favorites in Baby's Nursery.
Following that, I want to walk you through my COMPLETED Nursery! It has been 75% finished since July, but I had been waiting to find out if this baby was a girl or boy. Now that the cat is out of the bag, or the baby is out the belly… I am adding some finishing touches. It has been a really fun project, and I cannot wait to reveal it to you in November's Favorite Things.