In honor of National Nanny Recognition Week, Nanny Brandi shares with us her "Nanny Binder".  I heard about her nanny binder and loved it and wanted her to share it with our readers.  I think sometimes we all get caught up in the "techie" world and forget that sometimes black and white on paper does just the job at anytime and any day for information.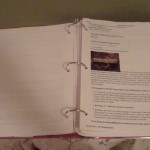 What is a Nanny Binder?
It is a collection of my favorite articles and information from various resources that help me in my development as a professional nanny.
Why did I make one?
Because I kept accumulating all of this information and when I wanted to reference it I didn't always have a computer handy. I am not a "techie" in the truest sense. Printing the information out and having the information readily available in a binder is what works for me. I carry it with me to work every day because I never know when I might need it. What is the saying? "Always be prepared!!"
What do I keep in it?
Anything that is relevant to my job as a nanny. I put information I have gathered from websites and conferences. Specifically I have it organized into sections:
Child Development Tips, Webinars, Personal Improvement, Craft Ideas, Recipes and Forms. For example, in the Personal Improvement section I keep information about improving my resume and portfolio. This is something that is always a work in progress and should be updated regularly. In the Forms section I have an emergency information sheet, household information, medical authorization forms etc. I also keep a copy of my updated work agreement just in case I might want to reference it.
How often do I really use it?
Literally, every day. Whether it is craft ideas for the kids, a recipe, or a few minutes at nap time, I can pull it out and read something that helps keep my focus on being a better nanny. I am constantly printing out and adding more to it so there is always current information for me to read.
Doesn't it get really heavy?
I try to only keep my "favorites" and things that I would use on a daily basis. I do rotate out recipes and craft ideas depending on the season and any material that isn't age specific to the children I currently care for. This makes it more practical to carry around.
How to make one?
It's very simple and you don't need to spend a lot of money. To get started I went to an office supply store and found a good sized binder, section dividers and a good three hole punch tool. An extra printer cartridge is also a good idea. You can personalize it anyway you want. Maybe even bedazzle it up some. Bling is in these days. Have fun with it. Whatever you can do to get excited about improving as a professional nanny.
Do you have a nanny binder or something similar?  Please share with us what is in your binder!