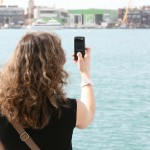 Cell phones have come a long way since the "bag phone" for your car. Today they are mini "computers" to our world around us.  The great thing about cell phones are the cameras they have. Most of them have 8 mega-pixel capabilities, better than some digital cameras.
Recently I heard some great ideas on uses for the camera on your cell phone.  I have a list of great ideas for you:
Take a picture of your printer ink cartridges so you can find it at the store
Take a picture of your license plate on your car, employers' car or others that you use frequently and might need to give to someone.
Sending photos to someone else to get approval of a pending purchase, piece of clothing, furniture
Taking photos of recipes, picture of food items cooked, ideas, quotes, other information in magazines you read while waiting at doctor's offices etc
Taking pictures of book covers, ,magazines & ISBN numbers of those items
Pictures of the info card on electronics you are interested in buying so you can research more at home online
Taking pictures of wine, drinks or foods that you like or want to try later
Taking photos of the kids holiday/birthday gift list of items instead of writing them down
Sending people pictures of products/places/signs that they might be interested in
Picture of the grocery list, to do list or other lists that need to be remembered so you don't lose the paper
Taking a picture of your location in the parking garage, lots or other areas.  The pillar with the number/letter/color of that section etc.
Pictures of membership cards with the member number, bar code or other identifying info on it.
Taking photos of items and information panels that are needed for school projects/book reports, so that the child's memory can be jogged for what they saw.
Photos of the parking meter with id information on it if it is broken and you get a parking ticket
Photos of any car accidents of your car and the other cars involved
Photos of the other person's insurance card and driver's license
Photos of the rental car if you decline coverage so in case they come back and accuse you of damage
Photos of items you are interested in for gifts or for someone else
Photos of the product labels with the price tag, dimensions etc of various items
Photos of teacher notes or other important notes so that you have it in case you misplace them and you can send to other people who need to know about the events
Pictures of store displays of toys, such as the cool train track set up so you can replicate it at home
Pictures of products and UPC codes (baby formula, makeup, shampoo, deodorant, hair color etc) you need someone else to purchase that is specific to a brand/type
Photos of the kids you are with if you are going to the mall or other busy place in case they are lost-you have a current photo of them and what they were wearing that day.
Daily photo of the kids, you, pet etc to send to other family members or friends
Photo of food allergy list to share with play dates and others
Photo of list of foods that can be eaten for food allergy affected folks, to share with play dates  and others
Photo of the blood pressure results on the machines at the stores etc when you check
Photo of kids clothing labels and sizes
Photo of business cards from people you met and network with
Take pictures of items you want to purchase for your home like furniture
Party ideas
Use it as a mirror..take a picture of your teeth to see if you have food in them, how an outfit looks on you
pictures of hair styles you like
taking a picture of yourself to send to someone you are meeting up with in a busy place so it will be easier for them to spot you
pictures of health issues like rashes, hives etc to share with your doctors
take pictures of moles etc to track for potential skin cancer
take a picture of your whereabouts if you become lost and need help
Do you have any other ideas?