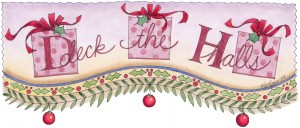 Fractured Christmas Carols
No one can fracture a Christmas carol better than a kid. I found this list in an old NAN Newsletter and I thought our readers would enjoy them.
Sing along with these new takes on old favorites:
Deck the Halls With Buddy Holly
Olive, the Other Reindeer
We Three Kings of Porridge and Tar
With the Jelly Toast Proclaim
In the Meadow We Can Build a Snowman,
Sleep in Heavenly Peas

then Pretend that He is Sparse and Brown
Oh, What Fun it is to Ride With One Horse, Soap, and Hay
You'll Go Down in Listerine
He's Makin' a List, Chicken and Rice
On the First Day of Christmas My Tulip Gave to Me
Later on We'll Perspire, As We Dream by the Fire
Frosty the Snowman is a Ferret Elf, I Say
You'll Tell Carol, "Be A Skunk, I Require"
Good Tidings We Bring to You and Your Kid!

I have a  fractured carol that I remember from my childhood.
It's from: Rudolph the Red Nosed Reindeer, when I was little, I would say "And they shouted on with "GLEEM"
One of my all time favorite fractured Christmas stories is from the days when I was a Child Care Center Director. We were acting out the Christmas story for our pageant, and I got distracted. I turned to the children and said "Oh dear, I forgot where we were" One of my four years shouted out "Miss Glenda…we were at the part where the shepherds were coming with the paste" (And the shepherds came with haste)
Do you have any Fractured Carols of your own that you would like to share? We would love to hear them.