Today's guest post comes to us from NannyFusion member Donna Shannon of The Personal Touch Career Services.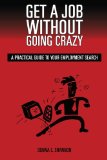 I love New Year's.  It's a time to bring new focus, shred the ineffective practices and go in a new direction.  To make that happen, we all need some clear goals and resolutions that guide our efforts.  Consider this your roadmap to a new opportunity….
1. Kill your TV
Okay, you don't have to take an ax into your living room, but be conscious of how much time you spend in front of the boob tube.  TV sucks – as in "sucking up your time."  If you really want to accomplish something with your job search, don't turn it on.
Want more resolutions?  Read the entire article here.