National Nanny Training Day (NNTD) is Saturday, April 28 with 30 events being planned across the country and Canada.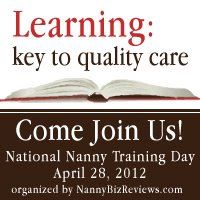 NNTD is the brainchild of Lora Brawley of Nanny Biz Reviews.  Read how NNTD began and became what it is today.
So, what are organizers planning across the country?
Here are a few highlights from events being planned …
Westside Nannies Los Angeles and San Francisco events are asking in lieu of an admission fee, for attendees to bring an item to donate to a local charity
Loving Arms Orlando is offering CPR & First Aid for attendees.
Metro Atlanta Nannies is offering a Lunch Hour Training Session , which will be a round table style discussion about the nanny industry, featuring Judi Merlin, owner of A Friend of the Family and Helen Tecklenburg, owner of Southern Sitters & Nannies.
First Class Care, Chicago has lined up an impressive roster of speakers, and donations!
The NYC Event is being coordinated by one nanny, Beth Lehmann.
The Alexandria School is donating all registration and raffle ticket funds to the Brittany's Hope Foundation.
Morningside Nannies in Houston, Texas has brought together nanny employers for an honest discussion of what they love about their nanny and what they wish she might do differently.
ADCAN ~ Association of DC Area Nannies is offering their event for FREE to area nannies, courtesy of the generous support of White House Nannies.
These are just a few examples of events across the country.  Check out Nanny Biz Reviews for a complete listing of events.  Check out Regarding Nannies tomorrow as we offer some tips to get the most out of your NNTD experience.