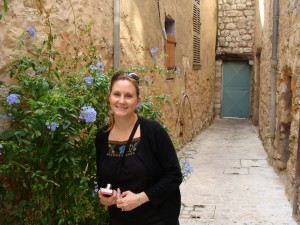 This May the International Nanny Association held their 28th Annual Conference in Las Vegas, Nevada.   Each year INA members who have completed five or more years as either a childcare professional or industry business may receive the INA Service Pin Award.  I am happy to share with you that this year Nanny Sheri received the Harriette Grant Service Award Pin for 30 years of service. 30 years is a huge accomplishment in any career but a true testament of one's dedication to the future of children to be involved for 30 years.
How long have you been in the nanny industry? I have been a nanny for 30 years
What are 3 unique characteristics about you, that you strive to pass on to your charges:
Three things that I would like to pass on are
1. Love everyone
2. You can achieve anything you set your mind to
3. Don't give up, even when frustrated, there is always a way to accomplish a task
What is the most rewarding thing about your career as a Nanny?
The most rewarding thing to me is when a child you have cared for and loved like your own, looks up at you and says "I love you". I know then that I am making a positive impact in their life!
What is one thing that you wish you would have known your first day as a Nanny?
I wish I would have known that music could be such a useful tool for calming and teaching
What is your daily nanny life like?
My daily nanny life is full. I no longer do full time hours for one family. Instead, I care for several families in a week, usually in 4 hour blocks. So, it is not uncommon for me to have 2 four hour blocks a day and then a 'date night' job in the evening.  My days can be 10 to 12 hours, which is not that uncommon for a nanny.
Are you involved in the nanny industry? (organizations, conferences, yahoogroups, blogging, websites etc)
I have my own Facebook page www.facebook.com/nannysheri, I operate my own website to keep costs down www.nannysheri.com,  I belong to a 'Nanny and me play group' in my local area. I am a member of the International Nanny Association, I founded The Nanny Share Group in my local area www.thenannysharegroup.com and I introduced 'Mommy Care' in my area as well
What is something others may be surprised to know about you?
I have never had a speeding ticket, but I did get a jay-walking ticket when I was 17.
If you weren't in the nanny industry, what do would be doing?
I would probably be a nurse. At one time I checked into becoming a Flight Nurse.
Some more fun things about Nanny Sheri
How do you give back in your community? personal or professional
One of my sons is in the military and returned home from Afghanistan in January 2012 after serving a year to protect us here at home. While he was away from home I started 'The Little Hero's At Home' clothing drive. I collected and purchased clothing items and donated them to military families in need.
After you retire, what would you like to be doing?
After I retire which will be within the next 10 years I imagine, I still hope to be involved in the industry. I would like to be a mentor for new nannies, perhaps write some articles to share some of what I have learned over the years and continue to keep in touch with my families.
A child I cared for years ago is now a mother and I am now caring for her child. I think that is amazing and makes me feel old!
What is the most important piece of advice you can share with our readers?
Take care of yourself. We are caretakers, that is why we are in the child care field. Often we can put ourselves on the back burner so to speak. If we don't feed, rest and re-charge ourselves, how can we give our best to others?
When you aren't working, what do you enjoy?
When I am not working, I enjoy reading, getting together with family and friends and playing 2 games on my I-pad: Family Feud and Hotel Dash. Mindless entertainment that allows me to decompress after a long day.
Tell us a fun fact about you.
I dropped a penny from the Eiffel Tower. Pretty cool!
What advice would you give to someone considering entering the nanny industry?
For someone entering the nanny industry, I would share with them that they not only need to love children, but they also have to develop healthy business boundaries. When you spend a lot of time with a family, a friendship naturally develops, which is wonderful and healthy for the children to see, however, it is important to remember that you are providing a service and should not waiver from the agreed upon terms.
I have had families over the years that I have grown to call friends and have asked me to care for their children, just once for free. I politely share with them that I deeply value the friendship that has developed, however, I was hired by them to care for their children and the greatest way they can show me their appreciation is to honor the contract/agreement.
Every Christmas my gift to the families I care for are Date Night coupons that I make. There are 6 coupons that they can use to go out for 4 hours and the child care is on me.
Introduction by Alice Shaffer, Regarding Nannies Development Team Member
If you know of a nanny we should feature please email me at regardingnanines (at) gmail (dot) com