Today, we get to hear from Nikki, fresh out of conference. Let's get to know Nikki a little bit more and see how this new role as 2012 INA Nanny of the Year is affecting her life!
1. What did you think when you 1st found out you were going to be NOTY?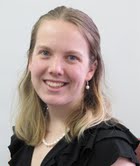 When I first found out I was going to be NOTY, I was very excited!!! I found out by walking into work one morning and the twins had onesies my mom-boss had made. One said Congrats Nikki!! and the other said you won!! Then both had Nanny of the Year on the back. My employers are wonderful and I thought it was such a cute way to tell me. It was then very hard not to tell people outside my family and a couple friends, as every year NOTY's are sworn to keep it quite until it is announced at conference.
2. What do you hope to bring to the role or accomplish this year?
I hope to have the opportunity to talk to many people about what it means to be a Certified Professional Nanny and how important it is to have a support network. I hope to be able to share what a wonderful resource the INA is to both nannies and employers. I also want to emphasize how important continuing education is as well as keeping certifications current.
3. How did the nanny community respond to you receiving the award and your speech?
They responded very well and extremely positive. After I was awarded the NOTY award, I only heard wonderful words of support, encouragement and congratulations. I had numerous people, say how well I did on my speech, that I made everyone cry, and how much they liked the poem I included that my mom wrote for me.
4. How do you expect this to change life coming home?
I plan on continuing being the best nanny I can be to my twins. Just over the last month it has kept my life much busier than normal. I expect that to slow down a little as the year goes on. Winning Nanny of the Year has already given me several opportunities to share what a professional nanny really is and the differences between us and a babysitter or an Au Pair.
5. Who would you encourage to be nominated for next year's NOTY?
Well there are some basic qualifications that are required by the INA to be nominated for NOTY. You need to be a nanny for a minimum of 5 years and currently be employed full-time. Be a member of the INA, which if your not already it's easy to join. Be nominated by someone other than yourself, which most employers are more than happy to nominate their nanny. The portfolio I will not lie, does take some time to put together, but it is rewarding as you do it. It is also something that would be great to take on interviews if you are looking for a new job. I encourage you to accept a nomination or to nominate a wonderful nanny you know.
See Nikki in action as she is interviewed for local news!