The first ever National Nanny Training Day was held April 28, 2012 had over 30 events nationwide and attracted over 1000 nannies.   This goes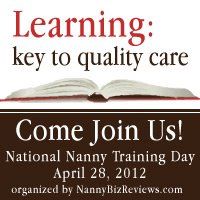 to prove that nannies WANT further educational opportunities and there are nannies, nanny support groups and agencies willing to provide it.
Here's a recap of some of the events, from the organizers themselves …
Houston, Texas
Morningside Nannies
45 nannies attended (plus 4 staff members)
4 workshops (6 presenters)
A Clean Home is a Happy Home Environmentally safe products for the baby's nursery and equipment.
Play with a Purpose Gymboree's director with a super personality instructed on things to do with babies to improve skills – visual games, tactile activities, fun little songs, etc.
Parent Panel Three parents that live in different types of households: a gay dad, a working mom, and a stay at home mom talked about their relationship with their nannies.  The parents said such wonderful things about how and why they appreciate their nannies that the nannies got an enthusiastic round of applause for the good job that they did for these busy parents.
No More Tantrums An author of a book on how to anticipate toddlers' frustrations before they "lose-it" taught the nannies how to communicate with little people effectively.
7 round table discussions that include:
How to talk to your employer – Home Safety – Bedtime Tricks –  I Need a New Job – Games Children Play – How to Interview – How to Handle Sassy Kids
Most "fun" workshop was Gymboree's Play with a Purpose.  (The people at the event in the next room peeked in to see what all the singing and laughing was about.  See photo on MN's facebook page of the nannies playing peek-a-boo.)
Most heart-warming was the applause the nannies received when their employers (on the panel) said how much they value, love, appreciate their nannies.  When I asked the 3 nannies to stand and said how rare it was to hear employers publically acknowledge their super nannies and that I thought the nannies that worked for these families deserved applause, it brought tears to my eyes.
Most significant moment:  One nanny (Afro-American) stood up and said to the room of about 35 Hispanic nannies "I may not look like you, but I speak Spanish and I understand what you are saying when you talk in your native language together at the park.  You should STOP talking about your employers.  You are a trusted employee and spreading tales about your employer and their family life is very unprofessional."
Las Vegas, Nevada
Nannies & Housekeepers USA
We had 70 nannies attend and 9 speakers/ sponsors attend.  It was a glorious workshop and luncheon at Tuscany Suites in Las Vegas.
Some of the highlights were Lucy Garza from Love & Logic and our Story time Corner Mary Poppins who is the lead in Phantom of the Opera in Las Vegas. Sarah Combs aka Mary Poppins who is a regular story read and sing-a long leader for our Story Time Corner opened the event and set the "tone" for a sensational, inspirational and education day.
In addition, we were pleased to have Carole Devon, the founder of Peoples Autism a local nonprofit who we partner with to send on call nannies to help families with Autistic children on call as needed in Las Vegas was marvelous.  Carole shared her story about living in NYC and being a mogul in the high fashion industry and losing her son at age 19 not because of Autism but because of 911.  Carole has been a strong advocate to help families with special needs children get respite care.
Nannies & Housekeepers has been conducting ongoing trainings and workshops for the past 7 years.  We understand the need for nannies to come together on a regular basis to learn from experts in the childcare industry.
Menlo Park, California
Stanford Park Nannies
Stanford Park Nannies was honored to be a part of National Nanny Training Day, and we look forward to participating again next year.  Twenty-six nannies attended our event and we were receiving registrations until the day before!
We had two fabulous speakers, so it's difficult to pick a favorite.  Our first presenter was Jason Bustos from the American Red Cross who gave a talk on emergency preparedness, specifically earthquake and fire scenarios.  Being in Northern California and considering that nannies have not one, but two houses to prepare for when putting together emergency supplies and planning exit routes, this session was extremely well received.
Our second speaker was one of our nannies and Certified Positive Discipline Trainer, Susan Lehman.  She really engaged the group and had everyone laughing and participating from the word go.  Each and every nanny took something away from this session that will have an impact on her job.
Our biggest take-home message from National Nanny Training Day was how committed nannies are to professional development.   The number of people interested in attending the training astonished us.  It is clear from the overwhelmingly positive response that more regular training classes are in our future.  The most heart-warming part was the sense of camaraderie that quickly developed amongst the group.  By the end, we had nannies exchanging phone numbers and promising to meet for play dates.  We are looking forward to finding new ways to foster these friendships and sense of community among this outstanding group of women.
Cleveland, Ohio
Alexandria School
National Nanny Training Day at Alexandria School for Nannies in Cleveland, Ohio had 20 attendees; all were graduates of Alexandria School except for one.  Because all of our attendees have attended nanny school we were challenged in our planning process to provide continuing education, not basic training.  Our sessions were at an advanced level.  The topics presented like sleep, allergies and asthma were addressed by physicians or specialists in their field. Subsequently the information and discussions were all relevant to our working graduate nannies.
One of our favorite speakers was Joan Morgenstern who is an Early Childhood and Potty Training Specialist. She was a speaker with whit. She had great quotes like "Happiness is like peeing in your pants…everyone can see it but only you can feel its warmth." She really did give us the "poop" on potty mastery.
NNTD in Cleveland was the first meeting of the newly established group N.E.O. Nannies! (North East Ohio) They held a formal meeting and established a face book page.  Yes! Cleveland now has a nanny support group. Please spread the word and like their face book page.
We raised over $1,000 for our charity, Brittany's Hope a non-profit organization dedicated to aiding abandoned children worldwide. A family that just adopted a special needs child from China that used Brittany's Hope funds was our keynote speakers. We all got to meet Luke their new son. Meeting Luke set the tone for our day of education and training.
New York City, New York
Beth Lehmann, nanny
Most attendees were happy to hear there will be a 2013 event. Some asked if we could do this every 3 months. Positive feedback from parents. I had about 25% of parents sign up and pay for nannies to attend. Many positive responses from parents who have looked for classes for their nannies.
Attendees – 35.  We had nannies from 4 states attend – NY NJ CT and MA
Hardest task- getting sponsors and securing venue.
Door prizes – everyone won something – prizes includes – $225 Bliss products, $250 Rock Wall climbing lessons. $50 Visa gift card, $50 Dave and Busters, Asst books, jewelry (including Lews necklace and keychain. Little Pim language learner starter pack $80. Olivia and Joy Handbag $100, Fresh start – journal, cookbooks, plate – Lehmans.com – Wooden Marble run (handmade), booden child's broom, asst wooden toys. Sprout SF sent bag of eco friendly child toys, Bobble lunch bags w/ subway gift cards and more.
Gift bags- 2 sign language webinar ($13.99 each), 2 city tree house passes ($10 each), sun butter, soyjoy, pop chips, pirate's bootie, clean well, coloring books form Lehmans.com, Flarble, Mr Yuk stickers and poison pamphlets, New York Kids club passes ($20 each).
Guest speakers – Dr Michael Sweeney – Cognitive Behavior Specialist – "How to keep your cool when the kids are driving you crazy".
He is an incredible speaker. He talked about how to keep cool over little things. He gave each nanny a sheet and to check off during each day different items on the sheet. The more checks the better the day and the happier the person
Sara Mathews – Child Development Institute at Sarah Lawrence College = Importance of Play
We watched short movie on why imagination is so important and how to let kids have time to play and not be over structured
Denyse Kapelus – Professional Nannies Institute – Essential Skills for Nannying – The art of communication – she did some role play with audience members – talking to kids, parents, negotiating, etc. Very well received!
Tammy Gold – Gold Coach Parenting – (recommended by Kathy Webb) –
She went over a lot on what goes through the minds of parents from the interview and after they hire you, the nannies could have kept her going for more a few more hours in time.
Each speaker had 1 hour. All were well received and all could have been longer on the topics.
Here are a few email responses I received…
"Thank you for the opportunity to be part of a very significant beginning. I look forward to 20th April 2013. The speakers kept my interest from start to finish. My eyes were open to a lot of possibilities available and my confidence reinforced. I do love my profession and I left the day's workshop feeling inspired to continue giving my best. Thank you for all your hard work and look forward to seeing you next year." Suzan Winchester
"I thought the day went very, very well. Congratulations again for organizing a very successful day. Thanks again for inviting me to speak. I thought the audience was receptive and the general tone was warm and supportive. Very best wishes, Denyse"
Beth- You did an outstanding job!  ~Andrea
Northern Virginia
NoVA Nannies – Lisa Werth
We ended up having about 48 people in attendance.
A big thing that I loved was the diversity in attendance; we had one from Africa, some from the Philippines, other minorities as well like Latina and African American. Our Language Acquisition presenters made a point of saying to them to speak in their native languages to the children and how much this does benefit the kids in the long run. These presenters were also able to secure a donation from Scholastic Books so each attendee received a tote from them and two picture books.
The Northern Virginia National Association of Education of Young Children were there to speak about training opportunities, and one of the reps is from Columbia originally and used to be a nanny. It was during her third job that she went college to get her education degree. The nanny who won the annual membership NVAEYC offered as a raffle was from the Philippines how she did have training in her native country to work with children too. Both of these women expressed so much gratitude for the start of NNTD and hoped for more in the future. I felt the day was about bridge building and making connections with other cultures of nannies. It allows all of us to present a united front about the importance of being quality caregivers.
Atlanta, Georgia
Metro Atlanta Nannies
Metro Atlanta Nannies welcomed 30 paid attendees to National Nanny Training Day Atlanta. Everyone got to enjoy five terrific educational sessions, including a discussion on discipline with Kindred Howard and Lesa Day's talk about personalities in workplace. The positive energy during the event was tremendous, and the chance to reach nannies who wouldn't normally attend national conferences was a big part of that excitement. Local events bring more nannies into the fold of continuing education, and the benefits to the children those nannies care for are tremendous! Our charity, United through reading, will receive $200 to support their work, thanks to ticket sales and donations, which makes us very proud as well. In addition, Metro Atlanta nannies worked with 3 local agencies to present NNTD, and 2 other local agencies supported out efforts with financial donations. It's always great to have nannies and agencies working toward common goals. We are all looking forward to NNTD 2013!
Washington DC metro area
ADCAN – Association of DC Area Nannies
44 nannies attended the ADCAN event which was free to all nannies, due to the generous financial support of White House Nannies / Barbara Kline.  Four sessions were offered including What Makes a Bully, The Secrets to Getting Ahead in Life and Work and the Steps to make it Happen, Sibling Rivalry and Real Nannies / Real Questions / Real Answers Panel.
In addition, there were networking opportunities, raffle prizes and swag bags for the attendees.  Each attendee also received a certificate of attendance and ADCAN welcomed 13 new members as a result of the training day.
Attendees were also generous in providing canned and dry goods for local charity A Wider Circle.
Some of the feedback has been …
WHY did you attend NNTD?
I am an ADCAN member and believe in ongoing education for nannies.
Networking.
I have never done any nanny workshops and want to grow as a nanny.
For educational and social reasons.
* To be with other Professional Nannies * To get new ideas and strategies for dealing with my parents and kids * To increase my own knowledge and professionalism.
To network and educate myself.
Boston, Massachusetts
Boston Best BabySitters
Jennifer Garnache of Boston's Best BabySitters says, "There is no other job as important as raising a child, whether it is your own or someone else's.  General awareness and appreciation of the critical impact an in-home, professional childcare provider has on the future of our children is not where it should be.  It is time to spread the movement of legitimizing and promoting the professionalism of our industry, starting with professional development support and training.   We at Boston's Best BabySitters are really excited to offer both our in-house nannies as well as other nannies throughout the community the opportunity to participate in a full day of exciting, cutting edge training sessions tailored to the private home environment."
We had 71 people registered and I think only like 3 couldn't make it!  I learned that there is a vast number of professional childcare providers who actually crave training opportunities…and not just at the intro level.  Most of our attendees were very happy, but wanted more in-depth, higher-level training opportunities for next year.  People want hardcore education, and that is just awesome!  I found that providers want to take home some real tangible skills from trainings, so I've already put-on my thinking cap for next year.  Also, we didn't really advertise this event as well as we could have because we only had 6 weeks to pull it together, but I think if I had placed even one small ad in a local newspaper, we would have been inundated with participants.  Might need to book a hotel for next year!  I am not commenting on my speakers for various political reasons, but I thought everyone had something wonderful to offer.  (I will say that Michelle LaRowe inspired quite a few ladies, though.  She is quite a motivating force, giving a voice to those who don't feel like they have one…)
Save the Date for April 20, 2013 when National Nanny Training Day returns!
National Nanny Training Day was founded by Lora Brawley of Nanny Biz Reviews.