by Jenn Gay
Professional Nanny & Library Children's Youth Services worker
Welcome to Regarding Nannies newest series! Book Club with Jenn! Learn more about Jenn on the next "Meet Nanny You" in August. 
Each month I will feature a story and craft or game. It may be a book club book for older kids or a story time craft and book.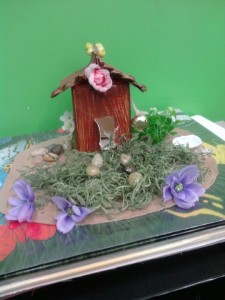 This first month we will do the third and forth grade girls book club. I do a girls only book club at the library.  We find the kids talk more freely about their books at this age when separated by gender. They also are reading very different things. My girls group called "Girls Just Wanna Read" a play of Cindy Lauper's "Girls Just Wanna have Fun",  read The Night Fairy by Laura Amy Schlitz . The book is a Newberry award winner. The Night Fairy  first got my attention when I met the author, Ms. Schlitz at a conference one fall. She was a great speaker and shared with the librarians in the room the process in which she wrote the book. The Night Fairy is about Flory,  a fairy who looses her wings in a accident and can no longer fly. Flory is fierce, a strong female character which I loved! She has to learn the value of making new friends and navigating a giants lawn which is where she lands after her accident. I love Fairy's. My charge who was in the book club also LOVES fairies,  don't most girls! They loved this book. It was so sweet.
The craft we did was a fairy house of course!! This is how to make one at home:
A small milk carton
 brown paint
glitter spray
acorns
fake grass
fake flowers
pebbles
You can really use any natural sorts of things. Paint the house first. Then using glue guns ( at this age they were fine with direct supervision) they added all their embellishments. The girls took their time and  some were very detailed. We discussed the book as we worked.
Most of the stuff I got from Micheals Craft store. At the end we went outside and sprayed the whole house with glitter. The girls still talk about these over a year later. Attached is a picture of my proto type. Enjoy!
About Jenn
 A little about me. I'm Jenn a nanny of more then 20 years. I have been with my nanny family for 18 years now. I watch them only occasionally at this point as they chose to grow up. HA!!! Kids have a habit of doing that. I live in New York and work in Youth Services at my local library about 35 hours a week. I am one of six kids and I have 11 nieces and nephews!
This post contains affiliate links. By making purchases through our affiliate links, you help keep Regarding Nannies operating. We receive a small portion of money from all purchases through the link. Thank you.