Today we bring you part two of our feature on the 2013 INA Service Award Pin Recipients, featuring the 20, 25 and 30 year honorees.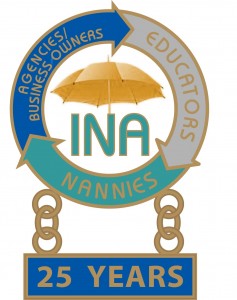 20 Year
Kathy Webb  
Kathy co-founded HomeWork Solutions Inc. in 1993. Her business provides payroll and payroll tax services to household employers. Kathy and her partner started their business with a sub-let 90 squarefoot office, one desk, one computer and printer, two chairs and two telephones, and a "milk crate" for a file cabinet. Today her firm employs 18 full time and 7 part time employees and assists thousands of families nationwide
Kathy took her company online in 1995. In 1996 she launched NannyNetwork.com, the first searchable national database of nanny placement agencies. This was the first online nanny industry website to articulate standards and practices in the nanny industry, featuring the first nanny bulletin board, which enabled nannies to network with other nannies, other people who "got it." The site today has between75K – 90K unique visitors per month, with an average of 6.2 pages viewed by visitor.
Kathy believes strongly that families and their nannies have better relationships when they understand the norms and practices involved. She wants families to understand their responsibilities –reference checking, background checking, and payroll tax compliance. She also wants nannies to be informed and encourages written work agreements. She has authored numerous articles, and is consulted frequently by national media on nanny industry issues.
She is also a very energetic and active leader in the nanny industry. Her company is a proud member/sponsor of INA, APNA, Nannypalooza, National Nanny Training Day, and a member as well of the Loudoun County Chamber of Commerce and the American Payroll association. Kathy currently serves on the INA Board of Directors. Her commitment and dedication have positioned Kathy and her company as the experts in the nanny tax arena.
Kathy is a magna cum laude graduate of BostonCollege, and lives with her husband of 30 years in Northern Virginia. She is the proud mother of 3 young adults, mother in law to 2 others, and the absolutely –in-love-grandma of a little princess and her new baby brother!
 25 Year 
Louise Dunham  
Louise Dunham started her business, Placement Solutions, in Melbourne, Australia in 1988. In 1988 the company was named Mother's Little Helper and provided on call casual childcare, as well as other household management services. The business started from home when Louise had one small child, a 6- year-old. The impetus for starting the business was the discernible lack of quality care and screening when obtaining a casual career.
By 1994, Louise was operating out of a small office and had another child, Sianan, who works now as theEvents and Training Manager for Placement Solutions (and whom many of you met in 2011 in Tampa Bay). In 1994, Louise was an instigator and founding member of the AANA, the Australian Association of Nanny Agencies.
Louise served as president of the AANA from 1999 to 2000. By that time not only had the Victorian Working With Children Check become law but also a federal government pilot scheme to initiate In-Home Childcare and provide government approved subsidies to eligible families had been introduced. Louise as AANA President provided the keynote speech to the National Family Day Care conference in 2000 entitled, "Not Just a Baby Sitter and Why Nanny Is Not a 4 Letter Word." AANA folded and Nica, the National In-home Care Association, took its place in 2004, Louise again being a founding member. As an inaugural provider of the National DEEWR (Department of Education, Employment and Workplace Relations) in-home care scheme, Louise has worked hard to write and set standards within the Australian industry. She served on the Senate National Steering Committee for In-Home Care Standards in 2008 and on the National Industry Training Board for the updating of the Certificate 3 in Children's Services in 2003. Later in 2008 she was on the CCMS (childcare management system) Industry Task force when new software was introduced to oversee the whole childcare industry and childcare rebates across the country. Louise is proud of what she has achieved since 1988 both professionally and Australia wide with our in home care scheme.
As of 2012, Louise has set up a separate business providing nanny payroll services to both her own agency clients and Australia wide. In her 24 years in the industry she is delighted to see how far this sector of the childcare industry has developed both in Victoria, Australia, and here in the Unites States.
Marni Kent  
When you're a nanny, you never know what surprises each day will bring — like an impromptu biology lesson and stand-up comedy act.
A few years ago, nanny Marni Kent took fourth grader Sammy to the Hobby Lobby to pick up all the raw materials for her class project on the human ear: a paper mâché head, Silly Putty for the outer ear and pipe cleaners for the inner ear. During the girl's presentation, she meticulously explained each part of the ear and how it contributes to processing sound and sending signals to the brain. With a deadpan delivery, the student later showed her classmates where the brain was located. It was represented by a pea — as in "pea brain" —a gag inspired by her brother.
"I was sitting with Sammy's parents and siblings and the crowd went wild with laughter," Marni says. "At that moment, I was so proud not only how she used all those big words, but that she had put so much work into this project and was able to entertain and explain this in front of a large crowd."
It's natural for nannies to experience parenting-like moments such as these. Although the public often assumes that a nanny is merely a full-time babysitter, the truth is that they are constantly switching roles as trusted guardian, teacher, and friend.
"Some people see the career of a nanny as simply unchallenged, yet where else can one take credit in playing an integral part in the way a young person will become an adult among society?" "We get to mold the content of a child's character face to face and see the results first hand."
" I've learned that you can't learn how to be a professional nanny from a book," she adds. "Each family has a specific blueprint of needs and expectations. The nanny has to be able to morph into those needs, be flexible and accept different parenting styles, temperament and personalities. Child development is about playing and modeling, exploring the world around them. And a little praise means a lot to a child — it helps with building their independence and self-worth."
"Children have such a profound effect on you whether you realize it or not," she says. "When you get down on their level, you are forced to think and learn about patience. Your tone of voice can affect a child so greatly, and most importantly, children teach you how to be happier and more positive about yourself when you are the one who is supposed to be teaching them."
Marni's Best Nanny Tips
1. Every nanny should think of herself as a "wife to the wife." The parent-nanny relationship is about discipline, development, and rearing that will allow for long lasting relationships.
2. Growing with a family requires great commitment, dedication, and desire — even when things get rough.
3. Nanny resources and support are key for self care, personal growth and creating new opportunities to advance further in this career.
MaryAnn Meddish 
MaryAnn started babysitting at age 12 and started taking college classes while still in high school. One day at the college MaryAnn was asked if she was interested in being a nanny and ended up working for the family for four and a half years, working every schedule possible and even moving in to the family's home as a senior in high school and moving with them to a different town the following summer.
In 1990 when she found out you could be certified to be a nanny as she was looking into the validity of "Nannying" as a career, she left her job and enrolled in Northwest Nannies Institute saying, "When you choose your career you get the education needed to be your best at what you do." MaryAnn is a graduate of NNI and Starkey International, she has passed the INA Credential Exam, and in 2009 she was selected as INA's Nanny of the Year.
She has experience with newborn singletons, multi age children, blended families, and premature newborn multiples including twins, triplets, and sextuplets. Her experience also includes working with children with ADHD, Asperger's, mild CP, developmental delays, food allergies, special diets, medical regiments, and traveling solo both domestically and internationally with her charges.
MaryAnn is known for being very active and never running out of energy. She volunteers in her church, local community, and nanny community. She does a number of crafts including quilting, sewing, knitting, jewelry making, and scrapbooking. She enjoys hiking and camping, has walked the 60 mile Breast Cancer 3-Day, and loves to travel.
30 Year 
Sandra Costantino  
Sandra Costantino is the executive director and co-owner of Neighborhood Nannies, Inc., a Haddonfield, New Jersey based leading nanny placement agency. Neighborhood Nannies was established in 1983 and was one of the first nanny agencies established on the East Coast. Sandy has been a guest on numerous TV and radio programs speaking out on issues concerning the nanny industry and its impact on the American family, in addition to representing the nanny industry in issues of regulation within the State of New Jersey.
Sandra is a founding member of INA and has been involved with the association since its inception. She is the only elected individual to serve continuously on the INA board of directors since 1985. Sandra has also served on the executive board of the association for many years and also serves as the unofficial INA historian.
Sandra has been responsible for the Annual Conference site selection, contractual negotiations, and conference planning since 1993. In addition to being treasurer for multiple terms, in past years Sandra has served as INA's secretary and first vice president. Sandra has chaired the INA committee on professional standards and has served on many other association committees including the finance committee, INA relocation committee, and publications review board. She has also headed up various task forces over the past 30 years.
Sandra is an industry professional in the true sense of the word. She is focused and passionate about the nanny industry and is able to offer expertise to nannies in all levels of their careers. Sandra is sought after and respected by INA members because she is recognized for her commitment to professionalizing the nanny industry and helping to insure its' success.
Congratulations to all of the INA Service Award Pin recipients.   If you would like more information on the program and how you can receive your pin, visit http://nanny.org/service-award-pins