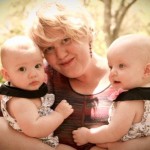 Meet Nanny You was started over at  the CincyNanny Blog to introduce and connect  local nannies. Greta Schrear brought it to Regarding Nannies in hopes of doing the same with our readers on a larger and worldwide level. We have found attending national conferences and local nanny gatherings that we can  have so much in common with the many  of nanny professionals we meet. There is an instant appreciation, respect and understanding that nannies have with each other. That being said, we are all so unique and extraordinary in different ways. We hope that the stories and experiences shared in the "Meet Nanny" series will inspire. Let's meet Nanny Karen L. today…
How long have you been in the nanny industry? Almost 8 years
What are THREE unique characteristics about you, that you strive to pass along to the children in your care? I strive to pass along a love of learning. We never stop learning, and when a love of learning is fostered early, we set our children up to embrace lifelong learning. I also strive to teach the children in my care to value relationships and loyalty. And finally, I encourage them to pursue their individual talents and interests and not be afraid to try new things…at least once!
What is the most rewarding thing about your career as a Nanny? The most rewarding thing about being a nanny is having the opportunity to partner with families and impact their children. It is a privilege to be invited into homes and be a part of a team dedicated to nurturing young people. I love watching them grow and explore and discover their world!
What is one thing you wished you had known your first day as a Nanny? I was fortunate to secure my first professional nanny position with the help of a highly reputable local agency. I had the opportunity to interview extensively with the family and complete a trial before my official first day. I also had a detailed work agreement and job description in place. That said, I now know that no matter how prepared you feel it's important to remain open and flexible as things don't always go as planned. Expect the unexpected!
What is your daily life in your job like? I'm currently working with twin girls who just turned one. Right now a lot of the day consists of managing feedings and naps with some playtime mixed in there too! We also spend time reading together each day and taking walks through the neighborhood. We just started attending music class once a week and are part of a weekly playgroup as well. I'm also responsible for managing all of their clothing, toys and feeding supplies which includes weekly trips to the grocery store. Every outing is a learning opportunity so I strive to make even the day-to-day routine things fun!
Are you involved in the nanny industry? (organizations, conferences, trainings, yahoogroups, blogging, websites, support groups) I've been very active in my local nanny agency, Nannies From the Heart, for seven years. I regularly contribute to their blog and was recently asked to be one of three nannies to serve on their Nanny Appreciation and Support (NAS) Advisory Board. The board will oversee the NAS program which is designed to help nannies build connections and will provide professional development opportunities, including an annual conference where I'll be facilitating several sessions this year. Additionally I'll have the opportunity to serve as a mentor to new incoming nannies. I am a member of INA and just attended my first conference in Louisville. It was simply amazing and I hope to attend every year! I follow several nanny blogs (including Regarding Nannies!) as well as a nanny Facebook group and am a member of the Nanny Support Group.
What is something others may be surprised to know about you? Many are surprised when they find out what a sports junkie I am. I LOVE college football and basketball and enjoy going to games and watching them on television. I like all other sports as well and receive regular alerts from my ESPN app! I am a proud graduate of Texas A&M University and always support my Aggies no matter how the season is going.