With the Fourth of July coming up, I wanted to share with you 4 fun Fourth of July projects.
1. Living Locurto and it is American Flag Marshmallows
2. I Can Teach My Child and shows you how to create Salt Absorbing Fireworks
3. Martha Stewart and features several ideas for Patriotic Crafts
4. Fourth of July Paper Pinwheels. The directions are from Enchanted Learning but in order to do the two sided pin wheel you will need 2 kinds of paper.
I have included a pinwheel pattern or you can follow the directions at Enchanted Learning.
I have also included 2 pieces of Fourth of July paper that you can print or you can create or use  your won.
Fourth of July Paper 1
and while you are sharing these fun crafts with the kids in your life, don't forget to teach them that the Fourth of July is about more than fireworks and food.
Ehow has some great ideas of ways to do this.
Glenda Propst, NannyTransitions.com 
The July 4th holiday brings back memories from childhood.  It was our families second best holiday – after Christmas.  All the aunts, uncles, cousins and grandparents would congregate at my parents' home or our summer home at the lake and pitch tents, have tons of food and catch up on all that had been happening in each others lives.    The holiday was never complete unless there was a tornado warning and a trip to the emergency room – of which I had the honor of being the patient one year!
It's about remembering our independence, celebrating freedom and family and being thankful.
Here are ways in which you can celebrate the holiday with your family and the little ones in the house …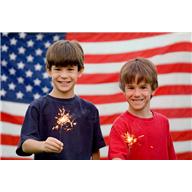 What are your family traditions for the holiday?
Kellie Geres
Regarding Nannies Development Team