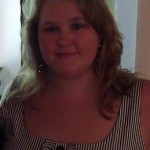 Meet Nanny You was started over at  the CincyNanny Blog to introduce and connect  local nannies. Greta Schrear brought it to Regarding Nannies in hopes of doing the same with our readers on a larger and worldwide level. We have found attending national conferences and local nanny gatherings that we can  have so much in common with the many  of nanny professionals we meet. There is an instant appreciation, respect and understanding that nannies have with each other. That being said, we are all so unique and extraordinary in different ways. We hope that the stories and experiences shared in the "Meet Nanny" series will inspire. Let's meet Nanny Sammi H. today…
How long have you been in the nanny industry?  7 years
What are THREE unique characteristics about you, that you strive to pass along to the children in your care?   I strive to pass along passion, love, and joy to the children in my care.
What is the most rewarding thing about your career as a Nanny?  The most rewarding thing about my career is seeing and contributing to the development of the children.
What is one thing you wished you had known your first day as a Nanny? I wish I would have known how much children actually imitate you!
What is your daily life in your job like?  I am a PT/occasional nanny so I have about 7 families that I work with. I do everything from meals, play, cleaning up, naps, bed, bath, driving, and more!
Are you involved in the nanny industry? (Organizations, conferences, trainings, yahoogroups, blogging, websites, support groups) Yes! I am part of the Triangle Area Nanny Group (T.A.N.G.) and I hope to become part of many more! I'd love to hear about other groups that are in my area.
What is something others may be surprised to know about you? Other's may be surprised to know that I am not just a babysitter and although I am only occasional right now, I plan to become a FT professional nanny after I get my BS in Business!
If you weren't in the nanny industry, what do you vision yourself as doing? If I weren't in the nanny industry, I'd envision myself being a teacher for kindergarten or in day care centers.
Tell us a little bit about how you got into the nanny field.  I have always wanted to work with children. I could not wait to start babysitting when I turned 13 years old. I started with a family of three children and I worked with them for about two years. They passed my name along and I just continued to be passed by word of mouth. I have now attended on NNTD event and I am sure that being a nanny is what I really want to do! One of my families that I would care for decided they needed a FT nanny and it was at the perfect time that my mom was looking for work and she went as their FT and is now with her second family!
What is the most important piece of advice you can share with others in the nanny industry and our readers.  My biggest piece of advice that I could share is to communicate, communicate, communicate – with your employer(s), with your charge(s), with your peers, and with your family. Also, don't let your work over run your life!
When you are not working, what do you enjoy doing?  When I am not working (or doing school work), I enjoy scrapbooking, crafting, baking, and going out (especially to new places) in Raleigh, NC!
What advice would you give to someone considering entering the nanny industry?  I'd advise someone considering entering the nanny industry to only become a nanny if they really enjoy every aspect of children and understand that there are very bad days and you have to have lots of patience.
What changes would you like to see in the nanny industry? I'd love if people didn't look down on nannies as uneducated and can't find another job.