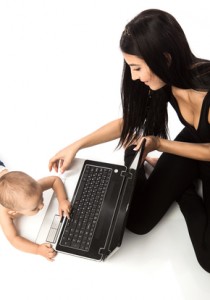 While raising children still requires more than a fair bit of patience and elbow grease, new technologies pop up each day that allow for adults to improve their care for kids of all ages. Nannies who care for and check on kids part-time have never had more tools available in their arsenal to help with everything from making sure a baby is healthy to taking care of a mess. What are some of the most popular pieces of new technology amongst child-care professionals?
Child Monitoring
Baby radios have been a practical means child-rearing for years now, but with real-time video it is possible to get both a picture along with the sound of children playing, sleeping, or in time-out. Setting up a mobile phone or tablet PC in one room allows a nanny to check up on kids from another room or even another house. Apple products (iPads, iPhones, iPod touches, laptops and desktops) come standard with FaceTime, a voice-over Internet protocol that allows for restriction-free video communication. Likewise, the popular free-of-charge video conferencing service Skype allows for peer-to-peer video messaging over Windows, Apple, and Linux operating systems so that a nanny knows when an infant needs a diaper change or when a child is in close proximity to a health hazard.
Autonomous Cleaning
History has yet to record a child who could go a day without making a mess. Any nanny tasked with taking care of children needs to able to clean up everything from puppy hair to juice spills. One of the most popular time-saving pieces of cleaning technology is the robotic Roomba, a vacuum cleaner that slowly works its way around every room in the house until it has cleared the carpets and tiles of dust, detritus, and debris. Roomba can tell when an obstacle like furniture may impede its progress, as well as when a sharp drop from the steps means it should turn back. Without the need to pull out a vacuum cleaner every five minutes, nannies can focus on higher priorities.
Remote Monitoring
Whenever a nanny needs to take care of children for a long period of time, the largest threats to their health and well-being may not be internal but external. Burglars take notice when houses have fewer (or zero) occupants in order to make a quick strike. A nanny can make sure that their kids' house remains safe and secure by using DIY home security and automation features from SecurityCompanies.com. Home automation allows for remote-controlled operation of an entire house, so that taking children to the doctor for a checkup or going out to get groceries does not result in an opportunistic home intrusion. Nannies can use remotes in order to lock doors and windows, adjust thermostat temperatures, get surveillance footage on mobile devices, and even control a home theater system. With the peace of mind from one-button security technology comes a happy and productive atmosphere to raise children.