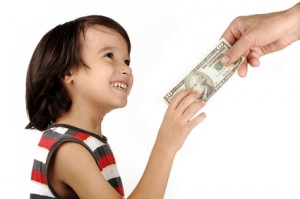 Most people develop the behavior patterns that shape their financial future by age seven, according to a May 2013 study by University of Cambridge. Researchers found that children's earliest financial behaviors, such as filling piggy banks, were guided by their parents and other role models. Children initially engage in such behavior without understanding its rationale, and later grow in their cognitive appreciation of its significance. This illustrates the importance for each parent to be a good financial role model and take steps to ensure their child develops fiscally empowering behavior patterns.
It's Not Just about Money
The Cambridge study emphasized that children's financial behavior is shaped by broader developmental areas, such as learning how to self-regulate their environment, plan for the future and delay immediate gratification. Acquiring basic monetary and mathematical concepts such as exchange and counting also lays a foundation for financial learning. Activities nurturing development in these areas set the stage for learning money management.
Third-grade teacher Dolores Choat wrote on scholastic.com that she builds financial games into other activities that teach children responsibility. These include having children cooperate on an assembly line to complete a project and requiring them to create a homework organizer and make paper clocks as task reminders. Choat combines such activities with an allowance game in which children save toward imaginary goals with play money.
Teach Financial Goal Setting
One of the most fundamental principles of good financial management is goal setting. T. Rowe Price recommends teaching this skill by talking to your children about financial goals you're saving for that have significance to them, such as toys, gifts, or family vacations. Relate this to familiar activities such as filling their piggy bank. Use two piggy banks to illustrate the difference between saving for short-term purchases, such as candy, and long-term goals, such as a new bike.
Make Budgeting a Family Activity
Setting a good budgeting example is another way to help children learn about money. Involve girls in family tasks that teach the saving side of finances and not just spending. These include drawing up household budgets, going shopping and depositing savings.
It's also good to teach concepts such as repaying loans. For instance, if you're selling your future structured settlement payments to J.G. Wentworth in exchange for cash to help pay down your debt now, show your child how you enter what you receive into a spreadsheet and how you budget it.
Show Kids How to Earn What They Want
Teach kids to save toward a goal. Bestselling author Beth Kobliner, who spearheaded the children's financial educational initiative Money as You Grow for the President's Advisory Council on Financial Capability, suggests preschoolers pick a toy or other item which they can save for in a reasonable amount of time using their allowance or a parental matching fund. She emphasizes making the goal affordable enough that the child doesn't get frustrated with the time it takes to save.