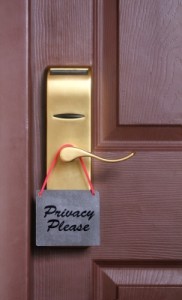 Being a nanny is a hard job and one of the hardest parts of the job is protecting the privacy of the families that we work for.  We do this not only for our families' safety, but also for our own.  It can be important that people do not know that we are home alone with the children, or home alone by ourselves. As nannies, we need to be extra cautious about protecting our families' privacy in both the real world and in the "new" online world unless we are given specific permission that it is OK to let our guard down.
Matt Haack from Domestic Estate Management Association put it best "There is a certain boundary that should never be crossed when working in home. This can tough to set because of the personal issue of caring for children but that boundary must be set. Crossing these boundaries by either the principal or the staff can result in disaster and in most cases ends in job termination."
In the real world there are a few simply rules that need to be remembered. First, giving out your charges name and address should be avoided as you never know what that person and/or organization will be doing with it in the future.
Another thing that you need to be careful with is letting people know that you are the nanny for the children. Many of us want to correct people when they call us the mom however, but we do need to keep in mind the fact that a correction could compromise the privacy of the family.  We heard from one nanny while writing this article who could not have play dates at their house, but the family was more than willing to let the nanny host at outside places.
As nannies, we also need to worry about the families' privacy that we work for while we are online. Many families will not let us post pictures of their children on social media outlets and many of us don't us their names, just their first initials. We need to remember that no matter what, the internet is still something that people can get on and look up private information on. One nanny that we talked to was actually able to share her families' information on Facebook.  She told us that if not for the kids she took care of, she would have actually taken down her Facebook page.
"One of the kids has special needs and has a sensory diet. Activities that are a part of the diet are also shared because the activities are stuff any kid would want to do. It helps reduce the stigma of the idea of doing a sensory diet and gives parents of mainstream kids ideas of stuff they can do. It also helps me being connected to others who have kids with sensory diets to share pictures of their activities. In the end, the kids benefit." –Nina (Michigan).  She did go on to say that though she tags moms and dads in the pictures of the kids, she is not required to.
When you are a live-in, privacy is a little different and a little bit tricky because it is not just your employer's house, but also the house that you live in. This can pose different problems than a nanny who is a live-out. We talked to one live-in nanny who had an approved list of people that she was able to invite over to the house, but she did say that she would wait at least a month into employment before she invited anyone over.
She said the part that becomes tricky is when your address is needed, and she filled out a form on time that needed her address and from that form, they figured out who she worked for which made her very cautious of ever using the address again.
There are many things that we as nannies can do to protect our families privacy, either online or offline.  Are you doing all you can do?
About the authors:

Maria Harrington has been a nanny for over 11 years, she has worked as both as live-in and a live-out. She is currently a live-in nanny for 3 school-aged girls, she has been with them for 6 years.  Her favorite part of nannying is watching the children learn to do things on their own whether it be to walk, to talk or to learn a new sport.  She also enjoys attending their events.  Besides being a nanny, Maria enjoys cooking, reading, and Zumba, she also runs a event planning business.
 April (Krause) Gradowski has over eight years experience as a professional nanny.  She is currently a live-out nanny for two school-aged children, a boy and a girl, who she has worked with for over five years. April graduated from Albion College with a Bachelor of Arts in History.  While in school she took her first nanny job as a night nanny for two boys who are now 15 and 17.  After graduation, April attended the English Nanny and Governess School in Chagrin Falls, Ohio to complete her training as a professional nanny.  Outside of her professional endeavors, she enjoys reading, crafting, and spending time with her family.  She is married to her husband of seven years and has two wonderful step-daughters and a cat.