Regarding Nannies is thrilled to introduce you to Leslie P.  Leslie is a new regular contributor to Regarding Nannies.  Watch for her Tuesday Tips and Creative Nanny Wednesday posts in the coming months.  You can find her on Facebook and see what's coming your way!
How long have you been in the nanny industry?  This is my first year.  I started in January 2014.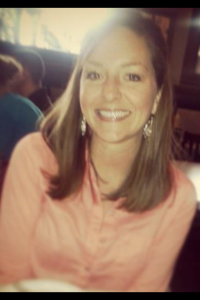 What are THREE unique characteristics about you, that you strive to pass along to the children in your care?   Compassion for those without a voice, passion in life, and respect towards yourself and others.
What is the most rewarding thing about your career as a Nanny?  The most rewarding thing about my career as a nanny is seeing the joy my charge has, and the advanced development track she is on, and knowing that these are because of my care for her on a daily basis.
What is one thing you wished you had known your first day as a Nanny? I wish I would have known that while you can most definitely have a routine throughout your day, there are many things that come up when taking care of a child that are not planned and cannot be planned!
What is your daily life in your job like?  My daily life as a nanny consists of meal preparation, developmental activities, playtime, walks to the park, singing, laughing, cuddling the little one, rocking her to sleep, laundry, dishes, walking the dog, and much more.
Are you involved in the nanny industry? (Organizations, conferences, trainings, yahoogroups, blogging, websites, support groups) Yes. I am a proud member of the International Nanny Association and will be attending this year's Annual Conference for the first time. 
What is something others may be surprised to know about you? Others may be surprised to know that I served nearly 7 years on active duty in the U.S. Navy.
If you weren't in the nanny industry, what do you vision yourself as doing? If I weren't in the nanny industry, I'd envision myself being a teacher (currently going to school for my M.Ed. and multiple subject credentials) or acting & singing professionally.
Tell us a little bit about how you got into the nanny field.  I have always loved children and enjoyed being around them.  Because of this, I spent many years babysitting and also working as a Montessori preschool teacher.  I enjoyed elementary school and decided then that I wanted to be an elementary school teacher someday.  For a sense of more direction in my life, and to travel and to pay for the rest of my Bachelor's degree, I joined the Navy when I was 23.  I spent nearly 7 years on active duty as a weather forecaster, but ultimately realized that that was not what I wanted to do for the rest of my life, and it was not where my heart was.  Having completed my Bachelor's degree while in, I knew I wanted to continue my education and get my teaching credentials once I got off of active duty.  However, the program I was interested in consisted of only 2 classes a week, in the evenings.  I'm the type of person that strives off of routine and feeling as though I have a purpose-daily-and because of this, I decided to look into some sort of job in which I could fill the rest of my week.  I did some research and came across care.com and filled out a very detailed profile seeking a babysitting or nanny position.  After several months and multiple inquiries and interviews leading up to my last day on active duty, I finally found the family I was meant to be with, and the one that had a schedule I truly desired.  I couldn't be happier at this point and absolutely love my charge, a beautiful and very smart little 6 month old girl, and her parents. 
What is the most important piece of advice you can share with others in the nanny industry and our readers.  My most important piece of advice I can share with others in the nanny industry as well as our readers is this: on days that aren't exactly going your way, whether the child is fussy/in a bad mood/needs extra attention/etc., remember that this is their one and ONLY childhood.  You have the power to make it the best it can possibly be while they are in your care, and they deserve for you to do so.  Everything has a season, and every child you are around is going through a phase; these phases don't last forever and it is in yours and the child's best interest to remember this and take things one day at a time.  Some days, they need that extra hug or that hour spent rocking them to sleep.  Give it to them!
When you are not working, what do you enjoy doing?  When I am not working or doing schoolwork, I love to spend my time doing DIY projects, any type of craft, gardening, reading, watching TV, and anything outdoors!
What advice would you give to someone considering entering the nanny industry?  I advise someone who is considering entering the nanny industry to do so if and ONLY if they absolutely love children and have a lot of loving patience.
What changes would you like to see in the nanny industry? I would love to see more publications about the benefits of having a nanny, despite the cost difference of daycare or preschool, for parents.  I think too many people have the idea that it is outrageously expensive to hire a nanny, but in reality, it is not much more than enrolling your children in daycare or preschool.  And, the benefits for your child and your family are infinite.