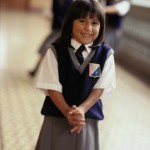 Students in private schools consistently scored higher than public school students in standardized testing, research shows. In a 2011 National Center for Education Statistics (NCES) study on student reading levels, the percentage of fourth grade students in public school who performed at the basic achievement level was 66 percent, whereas 81 percent of fourth grade students attending private school performed at this level. And 75 percent of eighth grade students in public school performed at the basic level, whereas 90 percent of eighth-graders in private school did so. It's no wonder most people believe private schools provide a better education than public schools do.
Bullying, violence, overcrowding and discipline problems are additional reasons people put their children into private school. Of course, if you want to go the private school route, it's going to cost you—the average K-12 private school tuition in 2010 was $8,549, according to NCES data. Find the money for a private education using the following strategies:
Dig Deep
Take stock of what funds you may be able to provide. Survey all sources of income, including salary, gifts, stocks and annuities. If you receive regular payments from a structured settlement, you may be able to sell all or a portion of your future payments for a lump sum of cash now, which you could then use to help cover tuition costs. To learn more about selling your future payments, visit J.G. Wentworth.
Scholarships, Voucher Forms & Tax Credits
Request tuition assistance directly from the school. Most private K-12 schools offer need-based scholarships and financial aid. Be prepared to provide recent tax returns, bank statements and pay stubs to qualify.
Some states offer school vouchers and tax credits to offset private K-12 tuition. School vouchers are subsidies the state gives directly to parents. Sixteen school voucher programs currently exist in nine states, the District of Columbia and Douglas County, Colo., according to the Alliance for School Choice. Personal-use tax credits are tax credits given to parents for money spent on their children's education. They are currently available in 11 states.
To learn more about what school vouchers, tax credits and scholarships are available in your state, visit the Alliance for School Choice.
Loans
Several financial institutions provide loans to parents to finance a private K-12 education:
Sallie Mae offers the K-12 Family Education Loan to cover tuition expenses
The Student Loan Network offers the Act Education Loan for K-12 Students
Your Tuition Solution offers fixed-rate loans to help cover tuition and related expenses
The interest rates are generally higher than they are for college loans, and the repayment terms are not as long as a college loan, either. But, these options can be cheaper than using a credit card. A home equity loan or a line of credit from your bank may be cheaper than using a credit card, too. To learn more about the loan options available to you, visit PrivateSchools.com.