Jada Pickett and Karen Deneau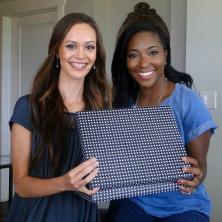 Instagram @thenannybox
Twitter / Pinterest  @thenannybox
How long have you been a nanny, or how long were you a nanny?  Jada: 7 years Karen: 5
What is a highlight of your nanny career? The highlight of my nanny career is right now! I have so many things in store for my nanny kids this year as well as helping nannies and families!
How did you come up with the idea for your product/ service? Jada: I was on a play date with Karen and my boyfriend at the time called excited because he had just helped the CEO of beauty subscription box company. I thought to myself "what we they had that  for Nannies?" There are a ton of products that Nannies can use on the job from beauty to wellness, and even apparel and accessories. How cool would it be to give a treat of products for nannies to try out every month?!
What is your level of monetary investment and have you seen a profit? We have seen a profit and have completely cash flowed our investment.
How has the nanny industry received your product/service – i.e. what has been the feedback you've received? – We have received a lot of support from the Nanny community which makes us happy that so many nannies are interested and subscribing! Many would like more information as to what exactly what will be in the Nanny box  every month, but we don't want to spoil it because we want there to be sort of a pleasant surprise every month! However we understand Nannies want to make sure they are getting their money's worth before subscribing. Every month, nannies can expect to receive 3-5 products and/or samples that they can incorporate and use personally as well as throughout their Nanny career, as well as craft, recipe, song, and book recommendations related to the particular theme we have for the month! In the upcoming months, Nannies can expect to complete a short profile that will help customize what will arrive in their box every month. We are really excited about this part because it will allow us to focus on more specific age specific lesson plans!
What words of wisdom do you have for others, who may have a product/service and wish to expand its market? Just go for it! Especially if it's something contributing to the Nanny and childcare industry. When we created The Nanny Box, we wanted this to be something that would bring Nannies together even more and we feel that's what it's doing!
What do you wish you had known early on, that you've learned going through this process? Our pricing margins and cost of products. We needed a certain number of subscribers to keep our costs down because  we don't want to over charge Nannies for this. We feel there are many recourses nannies can benefit from and we don't want to replace any existing or up and coming recourses by charging too high. You can purchase your Nanny box for just $15/month, or $11/month when you choose our 3 month subscription!!
Any other information you would like to share with us? Thank you for having us!! We are so excited to bring The Nanny box to as many Nanny doorsteps as possible! Like us on fb and Instagram @theNannybox