by Glenda Propst
Wishing all of you who celebrate Hanukkah a very happy Hanukkah!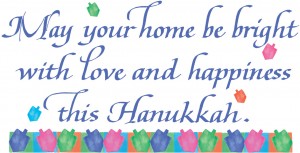 This week and next, we are sharing our favorite posts from 2011.
It is so hard to only choose 2, because there are so many posts that I love. This is Creative Nanny Wednesday and I do want to take a moment to thank all the nanny crafters who shared ideas and projects with us this year.
My Creative Assistant "Nanny Gael Ann" keeps me on my toes and keeps my mailbox full of new, fun and creative ideas. Look for one of Nanny Gael Anns wonderful Smilebox features in January.
The other feature that we do here on Regarding Nannies is called "Nannies Giving Back"
I love all of the stories about "Nannies Giving Back" but today I want to follow up on  Beth Lehman and her work in the homeless shelters in NYC and as a follow up to this story, Beth collected over 500 books for her "Bed Time Stories" project featured in the following article:
Nannies Giving Back: Beth Lehman volunteers with New York Cares