Summertime puts us poolside, and with trips to the lake and the beach on the horizon, it's time to evaluate the safety measures parents are taking for their kids around water. Sadly, drowning remains the second leading cause of death for kids under 14. This alarming fact is just one of the many scary statistics surrounding water-related injury that can be found on the Centers for Disease Control website.
As a childcare professional, you know that kids near water require constant supervision. If the family does not have the proper safety supplies for summertime fun, here are a few things you should suggest.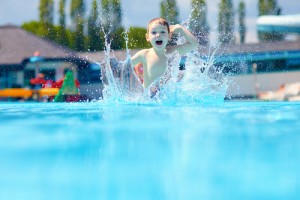 Fence & Latch
If the home has a swimming pool, whether in- or above-ground, it should be fully fenced and securely locked. Consumer Product Safety Commission standards require a fence height of four feet and that the fence entrance be a self-latching mechanism that is out of reach of curious little fingers.
If the family already has a fence, inspect every square inch for damage. Go a step further and volunteer to order a new fence or latch if the ones they have aren't up to par.
Pool Cover
A pool cover is another must have for summer safety — this measure does not replace the need for a fence, though. Consider it an extra precaution. Even if the pool has a cover, several city ordinances across the country require pool owners to enclose the perimeter with a four foot tall fence.
If the family has an above-ground pool, a hard-cover is paramount to water safety. If you can't remove the water and deflate the pool after each use, make sure you remove ladders when not in use.
Pool Alarm
To properly alert you if someone has entered the pool area, suggest the family buy a guard alarm that sounds off with motion. A gate alarm adds yet another shield. Some states, like New York, require every swimming pool have an audible alarm capable of detecting water penetration. Whether a requirement in your state or not, there are never too many safeguards to take when it comes to a life, especially a child's life.
Floatation Device
When traveling to open water like a lake, all kids need a personal flotation device approved by the U.S Coast Guard. Off-shore life jacket requirementsfor recreational boating depend on weight, body fat and water conditions.
If the kids are very young or inexperienced swimmers, make them a life vest any sort of water, even a swimming pool. Don't rely on arm floaties or other inflatables to keep kids safe in water. While these items are cute and fun, they haven't been approved for safety from drowning.
Other Considerations
Be sure you are certified in CPR and have a phone handy just in case you need to call 9-1-1. If the kids can't swim, suggest formal swimming lessons. When traveling to the lake, explain to them how different the water conditions are than a pool.
Take these safety measures to reduce the risk of the children under your supervision from finding their way into the water unsupervised.
Articles you might enjoy: