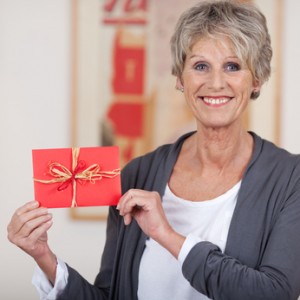 This article originally appeared April 2014, Regarding Nannies.  
Just because grandma lives many states away doesn't mean she has to be left out of the Mother's Day celebration. Make sure to send your grandma a special Mother's Day gift from her grandkids and don't forget to FaceTime her on May 11 to say "Happy Mother's Day!" from the whole crew. Here are some creative ideas that'll surprise grandma and make her day memorable.
Personalized Greeting Card
A personalized Mother's Day card will melt the heart of your mom or mother-in-law. Help your kids record a loving Mother's Day wish in their voices on a talking greeting card from TalkingProducts.com. Kids also can use markers and colored pencils to write a happy message and draw pictures. If you'd rather surprise grandma with a fun photo of the kids, check out Hallmark.com's greeting cards customized with a photo and music. For special effects that'll give it a wow-factor, add textured foil and premium paper.
Art from the Heart
Give grandma creative masterpieces handcrafted by her sweet grandkids that she can proudly display on her refrigerator. Artwork created by little hands inspired by the heart is the best kind of gift. Or make grandma a bouquet of flowers made with painted Popsicle sticks (for the stems) and paper plates (for the blossoms). Use buttons, cotton and glitter glue sticks to create the petals. A colorful kite made from tissue paper and ribbon also can brighten up her home for spring. Visit Parenting.com and HandsOnAsWeGrow.com for more fun spring craft ideas that kids will enjoy making and sending.
Gourmet Delivery
For this Mother's Day, grandma may just need some luxurious pampering or sweet satisfaction. Check out gourmet Mother's Day gift baskets from FTD.com with the kiddos and choose a specialty gift basket that would make grandma smile. Is her beauty ritual her most sacred time of day? Order gram the Sweet Pea Natural Serenity Spa collection. Does she live for all things sweet, like chocolate chip cookies and kisses from grandkids? Treat her to the Chocolate Indulgence Basket full of decadent fudge and truffle cookies.
Monogrammed Jewelry
Grandmas like knowing their little ones are close to their heart, even if they're miles apart. A personalized necklace monogrammed with your children's initials will remind grandma of a special Mother's Day and her little loved ones. Shop.Nordstrom.com offers a collection of personalized monogram pendant necklaces from top brands, such as Moon and Lola, Argento Vivo and Alex Woo. Whether you create a necklace with three letters or a single first initial, grandma will lovingly wear it with pride.
Decorative Brag Books
Even if grandma is on Facebook, she'll most likely still swoon over a photo album filled with pictures of her grandchildren. Include candid pictures, as well as those with silly faces, school or sports portraits, and photos of the entire family. Not only will grandma enjoy flipping through the photobook, she can show her book club gals and neighbors and brag about how cute her grandkids are. Use photo editing apps like Photo Decoration – Chaaam or My Heart Camera to stamp and decorate pictures with hearts, flowers and love messages.
Additional articles you  might enjoy: