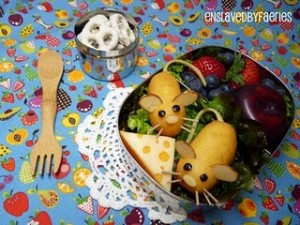 THE COOLEST WAY TO EAT LUNCH by Bonnie Mills
A few months back I was able to travel for my personal holiday to Japan, a trip I've  dreamed about taking since I was in the third grade when we'd studied it for socialstudies. It was amazing, on so many levels, but being a "foodie" I was particularlyfascinated by what and how they eat. Now most of us are familiar with sushi as well as the Benihana type restaurants where all the food is cooked on the table in front of you. I'm squeamish about raw fish and I've never cared for the food at those steak houses, finding the food to be too salty.
I love vegetarian sushi rolls, but aside from that, the Japanese food I'd had before had not impressed me. Since I was blowing a few months salary on this trip though I knew I'd be stupid to let my preconceptions cloud this holiday so I made a pact with myself that I would "go Japanese" to the fullest extent possible and all my food pickiness was going to be put on hold. That meant anything I was offered I would try, and actually try to finish, including sashimi which is raw fish by itself. Anyway, I'm digressing, aside from a couple of instances I loved everything I put in my mouth (one was raw squid, and the other wasn't anything bad, it was just an entire dinner that was fried which I found too heavy).The thing that struck me the most was that they have lots of tiny portions of things and they serve it on trays. There was always rice and soup, those were the constants, as well as pickled vegetables, a bit of meat or fish, often a couple pieces of tempura, and possibly some omelette, tofu of some sort, and steamed or raw vegetables, but only tiny portions of everything. Even more than that everything was so attractive , there was always plenty of color and the foods almost never touched. It occurred to me that this would be super easy to recreate for my five year old charge and she would likely love it as it's a novel way to eat. Not to mention a great way to use leftovers!
To recreate this approach at home you'll need a tray for each person, we found a couple of very attractive but inexpensive ones at Ikea. You'll also need a lot of   small bowls or dishes, they don't have to match, in fact its more interesting if they don't.This is a great use for those baby bowls that you can't quite bring yourself to throw out,the typical baby bowl is perfect for individual servings of steamed rice (just make sure your using sushi rice or you'll find it incredibly frustrating to eat with chopsticks). And of course you'll want child sized chopsticks (but have a fork or spoon on hand for them as well) as well as adult sized ones for yourself.
Now if you've never used chopsticks or never mastered them, don't feel intimidated, they just take a bit of practice to get used to and then you'll wonder why you haven't been using them all along. I won't go into the details of how to use them as there is plenty of information out there on the web, but I will give you two solid reasons why you not only should be using them on a regular basis, but why you'll want to. The first being that your charges and children are no longer simply members of the American community (or English community, or wherever you may happen to be), but the global one. The more you expose them to different cultures, including the use of chopsticks, the more open minded they'll be towards travel and having an open mind outside their communities. By modeling that you have an open mind about these things, they'll find that normal and will be less phased by exposure to new cultures.When I grew up in the 80's, both my parents took it upon themselves to learn how to use chopsticks and we probably ate out at Chinese restaurants about once a month.They never pushed or forced me to use them, but the chopsticks were always on the table during these meals if I wanted to try them. If your child gets frustrated by them,they have the fork or spoon as a fall back, but if they see you using them and they've got the option to try, they will want to master them at some point.The other big reason why you'll want to master chopsticks is that they are great for weight management. Even if you are a pro at using chopsticks, you simply can not get as much food into your body as quickly as you can with a fork or spoon. It's been stated by doctors and nutritionists that the body needs about 20 minutes to feel full so if you consume your food slowly after about 20 minutes you won't feel the need to eat so its a great way of controlling your food intake, thus watching your weight.If weight loss is a motivation for you I can't recommend enough having soup as part of your meals.
Now traditionally the Japanese have miso soup, but many westerners don't care for miso and there is no reason you should be forcing you or your kids to have something that isn't enjoyable for you. A simple bowl of broth works just aswell, it's up to you if you want to have some vegetables in it or not, but like drinking water during a meal it will help fill you up and is a nice contrast to the rest of the meal.The thing I find cool about the way the Japanese eat soup is that they don't use spoons,they just raise the bowl to their mouths and drink. Since this is generally considered a no-no in terms of table manners, it's kind of fun. Your giving them permission to walk on the wild side! Ok, so the normal everyday Japanese way of eating is fun, however  for me nothing tops the bento box. If you've never heard of a bento box, or only know it as an option when your go to a sushi restaurant let me break it down for you.
Bento are typically a vegetarian lunch option (often there is also fish and I nearly always put meat in mine). I suppose you could eat it for dinner, but I'm pretty sure they're mostly for lunch use. If you travel by train in Japan you can pick up a prepared bento box from most train stations. There are a variety of options with varying prices depending on the size and whats offered. However they remind me a lot of the lunch boxes we send to school with our children, but are used by everyone in Japan. In fact in Japan there is a lot of pressure on mothers to send their children to school with attractively packed,nutritious bento lunches. I've heard it can be quite competitive.The boxes can be wood or metal but from what I've observed are typically plastic. They come in all shapes and sizes though are typically small and are often multi-level. In Japan you can find super cute ones, but the ones that I though my charge would like the most were normally priced around $20 which I didn't want to spend cause I had the feeling there was a big possibility that it would never get used.
Boy was I wrong! I managed to find a small two level box for $3 and bought one for her and one for myself. They've since become one of our most used kitchen items, always at her request. Each of the two levels has it's own lid, and on the top lid there is a pair of chopsticks included with the box, and it's all held together by an elastic band, so they are very compact. Often how I use them is this, the night before I take whatever hot item we have left over, maybe some rice or pasta and put it in the bottom level of the bento box with whatever meat or vegetable was left over as well. I pop the lid on it and place them in the fridge. The next day, either in the morning if we're going for a picnic, or just before lunch, I prepare the top level. I usually put in a bit of cut up fruit or berries in a siliconemuffin cup and place it in the top level, then in the remaining space put cut up vegetables or salad, or egg, or cheese. You can put whatever you want in them, any type of food, and you could heat up the bottom layer, but we typically eat it cold. Also because the boxes are small the portions are small, but I never feel hungry when I've finished one, nor unpleasantly full so very handy for weight management.
If you decide you want to try bento-ing,tomorrows Creative Nanny Wednesday is going to have some simple ideas and links and  Alice is going to have some tips on where to find Bento boxes and tools  on Financial Friday. However there's no need to spend a dime, a smallish tupperware container will work just as well, you just won't have the cool multi-levels. I would still look into getting an egg mold, we use our Hello Kitty one all the time and they aren't expensive. I warn you though, once you pick up a few tips, it becomes very addictive!
Happy Bento-ing!
Bonnie
Bonnie D. Mills is a professionally trained nanny and an ESL trained English teacher currently working as a combination of both in Italy. She is as much a citizen of the world as she is a citizen of the US (if only such a passport existed). Having learned to live abroad she's always curious to learn about other cultures lifestyles and encourages that curiosity in those in her care.
Photo is from Enslaved by Fairies blog. Tomorrow on Creative Nanny Wednesday we will share the link on how to make the corn dog mouse and more!