I love to find and use other people's bright ideas. Lately I have been frequenting more blogs. Secret experts hiding with the "I did this and it was successful" post, for every day of the week. It always feels like a little treasure that I find as I venture through these posts. It can become very time consuming! See, the bloggers are finding each other, so that when you find one great blog, you then have a blogroll (aka list of the blogs those bloggers are reading) of even more blogs. So yeah, I guess I have become the dork that not only writes a blog, put keeps up with bloggers like I have known them all my life. [And you are thinking, did she just say "blog" 8 times?] But, my little obsession will hopefully be your reward today, as My Favorite Things – Back To School Edition comes to you from some of these said bloggers. After all, they are the ones living the examples of creativity, first in real life and then again in pictures and text. So I thank you, bloggers. You not only save me time and money, but give me daily inspiration.
The following post today has an added bonus, you may find some great ideas for back to school, or you may just find yourself with a new blog to stalk (follow the links by clicking on the titles). Happy reading!
My Favorite Things – Back To School Edition
By: Greta Schraer
Printable Days of the Week Tags
Aren't these great?  This is true preparation for the school week. Nanny could model how to prepare an outfit for the child then have them learn to do it themselves. If they are younger, the large letter or color would help in communication. These can be purchased or could be recreated by nanny or child.
Sand Flashcards
I love this tangible, tactile way to practice numbers. Children will enjoy making this craft, and likely desire to use it, when it's complete!
Magnet Board Stories & Activities
This blog post shares some creative ways to use story boards! Great ideas and actiivities listed to glean from! This example in the picture is the letter people. They can be printed in color, or black and white for child to color in themselves. Cute!!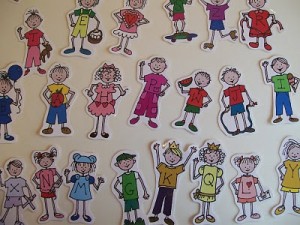 Cracker Snack
This snack looked so tasty! I love the simplicity and yumminess. I cannot wait to try it at work!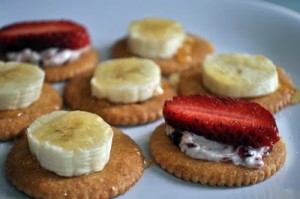 LunchBox Notes
I though these were a great way to send a positive thought! More great examples shared on the blog!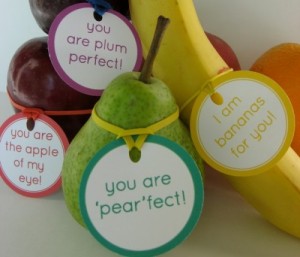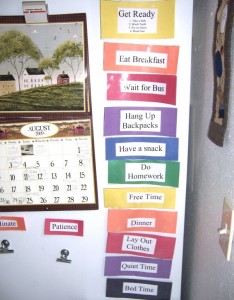 Fridge Routine
Allow a child to help create their schedule, this visual list for the refridgerator is open to flexibility. One more way to allow the child to follow a routine and transition from one task to another.
Homework Spot
Children will thrive with a routined environment. Having a place set aside just for homework will encourage a child's study habits. I thought this a place I would love to do homework at! What can you do to create a place to study?  Read more from Scholastic on Designing a Kid Friendly Workspace for suggestions!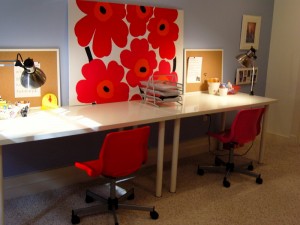 What are some of your Back To School Favorite Things?