My Favorite Things
By:  Greta Schraer
I know, I have a lot of favorite things. There are so many clever things out there to buy  and great ideas to try. I know that not all of them are worth the expense or time for everyone. When it comes to kids I tend to be a minimalist. I think that kids benefit from getting outside, using their imaginations and creativity. Kids don't need everything to grow strong and feel loved. In fact, in my humble opinion the lots of "things" can actually be a distracting. But, I also believe that coming across that one thing that really does save time, solve a problem, or make a difference in the quality of everyday life is worth it! Can you say diaper genie for triplets?
I hope that you enjoy today's favorite things! We always welcome your suggestions for future posts!!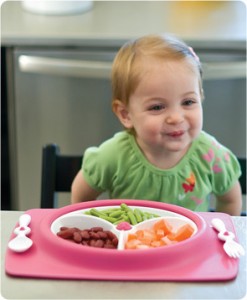 Mate (Stay Put Mat)
I love this mat for kids that are just learning to sit at the table, and learn to eat like a big kid. The plate, as well as the spoon and fork, pop on and off the "stay-put" mat very easily for serving and clean-up. The plate is designed to go right into the fridge, microwave or dishwasher! Extra plates, forks, and spoons are also available for purchase along with other cute colors. PVC and PBA free!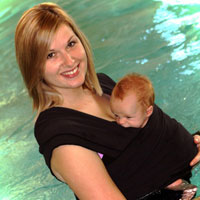 Wateroo
One of our readers sent us a link to the website of this product. The Wateroo was created by a mother of many young children. She desired to teach her two year old how to swim, but struggled to do this while holding an infant at the same time. This infant carrier is made to be used in water or out!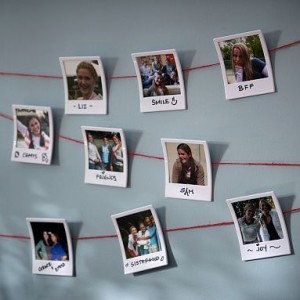 Polaroid Frames
I love these frames that look like the old 80's polaroid picks. Insert a pic and use a dry-erase pen to write. When I saw these on PB Teen, I immediately thought, do I have a teen to buy for? This is definitely going into my file for later! Insert text here.Insert text here.Insert text here.Insert text here.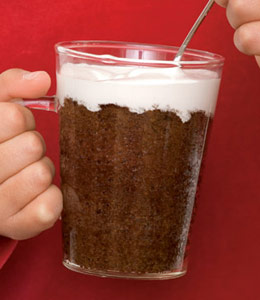 Hot Chocolate Mug Cakes
Check out this fun microwave snack from Family Fun!  All you need to create these cakes, is chocolate cake batter, cooking spray and marshmellow creme. Following cupcake instructions this makes 12 mugs full of cake. Definitely check out the link to Family Fun for all the specifics!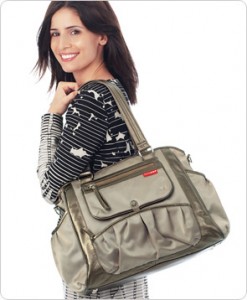 Studio Diaper Tote
I am huge fan of a diaper bag that does not look like a diaper bag. It has to be functional, cleanable, and it's even better if it is cute. Check out this one from Skip Hop, that comes in 6 patterns/colors. I especially love this metallic one, that goes with anything and works for a boy or girl kid.  If you love pockets, this one has 2 insulated for bottles plus 12 more! If that isn't enough the straps are adjustable to any stroller making it so practical for the busy nanny or mother!
Smart Trike
This product us created to be a multi-functional stoller and tricycle designed to grow with a child, some models from 6-36 months! The child starts out riding, but can be more interactive as they are ready. A clutch is built in to allow the adult to control the speed until the child can learn to pedal themself.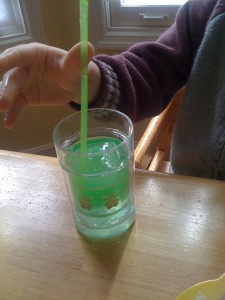 Lepechaun Juice
With St. Patty's Day approaching, I thought I would share my favorite thing to do with the boys. Last year we tried this, and have made it several times since (just because they loved it so much).  I am sorry I don't have a link, I cannot remember where I got the idea. Simply make ice  cubes by mixing green food coloring and water. Once they are solid, drop them in a cup and pour over with Sprite or 7-up. The drink is fizzy, which is fun for kids and the water slowly turns green… Leprechaun Juice! I suggest smaller ice cubes for quicker action.