Nanny Gael Ann is always sending me such great tips and ideas. The other day she sent me this one
On the Barnes and Noble website each month you can hear free of charge a different book read aloud by the author. The book for April is : The Very Hungry Caterpillar by Eric Carle
(You can also go back and read the books you might have missed from previous months)
You can go to Barnes and Noble and read the book and create this adorable little caterpillar craft. Gael Ann's note prompted me to remember this adorable craft that she used with one of her former charges. Makes me wish I had a little one to craft with!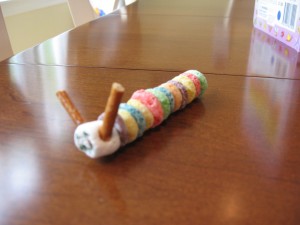 Edible caterpillars (thread fruit loops onto pretzel stick and add mini marshmallow for head with pretzel pieces for antenna)
And if you would like to do a whole series on caterpillars here are some more fun crafts contributed by Nanny Gael Ann.
GummyLump.com Blog: Eric Carle Inspired Very Hungry Pom Pom Caterpillar: Crafts for Kids Project #76
http://childcentralstation.blogspot.com/2010/05/easter-egg-caterpillars.html